13th March 2014 | International Solidarity Movement, Nablus Team | Nablus, Occupied Palestine
On Monday March 10, Raed Zeiter, a 38 years-old  judge originally from Nablus, was assassinated by the Israeli forces at the Allenby Bridge Border.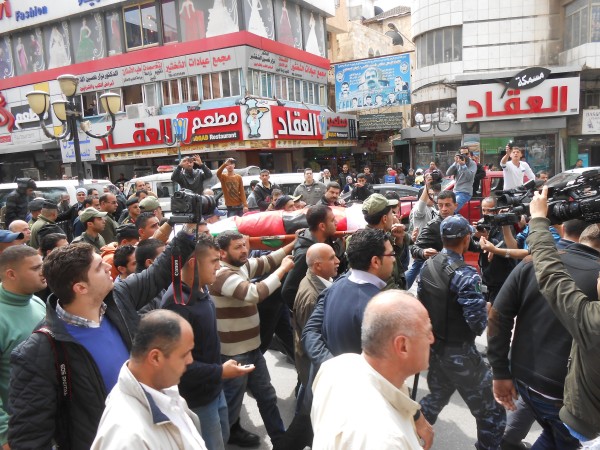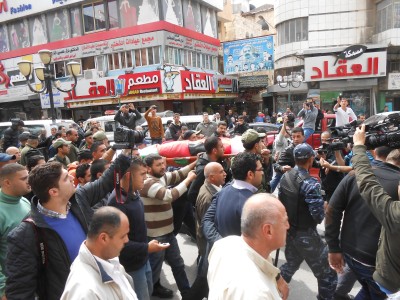 The man, who has been working in Amman since 2011, was going out of the bus to pass the border to Palestine at around 8am when the border authority ordered him to go in the "humiliation sas" for  "security reason". Excessive force was used against Raed Zeiter to bring him to this interrogation room, what would have brought him to push back the soldier. The Israeli forces immediately shot three bullets at Zeiter's chest and didn't let anybody get to the injured man for at least twenty minutes.  Raed Zeiter died before the ambulance could arrive, one hour later.
Zeiter was buried the day after in Nablus, leaving behind a wife and two young children, one of whom is in a coma in hospital.
This murder occurred in a dramatic bleeding time. Indeed, in the same day, three others Palestinians, Ismail Abu Judah, 23, Shahir Abu Shanab, 24, and 33-year-old Abd al-Shafi Muammar suffered the same fate in Gaza after an Israeli airstrike. Fidaa Muhye Addin Majadlah and Ibrahim Adnan Shukri died  in Tulkarem area after a car chase by Israeli police.  And Saji Darwish for his part, was also shot by Israeli soldiers nearby Ramallah. He was 18 years.