6 December 2012 | Johnny Barber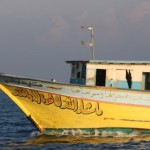 On Wednesday 5th December, Gaza fishermen staged a peaceful protest in the port of Gaza City, in order to highlight the Israeli attacks on their livelihoods. They were supported by the local Fishing Union, the Union of Agricultural Work Committees and the Palestinian Centre for Human Rights.
Gaza fishermen constantly face Israeli military aggression in Gazan territorial waters – just as farmers attempting to work their land in the buffer zone have been facing on a regular basis since Israel's massive assault on Gaza in late November. Both cases constitute a violation of the fragile ceasefire.