6 December 2012 | International Solidarity Movement, Hebron, Occupied Palestine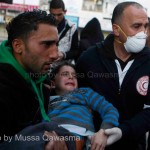 Clashes broke out in Hebron on Thursday after a confrontation between Palestinian Authority police and Israeli Occupation Forces.
 On Wednesday there was a verbal confrontation between a Palestinian Police officer and the Israeli Army. The following day Israeli Forces spotted the Officer while they were on a patrol in area H1 (which is a Palestinian controlled area) and tried to arrest him in Bab Al-Zawiye. Palestinians who witnessed the scene intervened and the officer managed to avoid the unlawful arrest.
After the PA Officer avoided arrest, the situation remained tense, as the army would not leave the scene. Israeli Forces then shot tear gas into crowds of civilian bystanders, which quickly escalated the situation. Palestinians became enraged, then clashes broke out between Palestinian youth and the IOF.
 Israeli Forces still wouldn't leave the scene, and began firing tear gas, rubber coated steel bullets, and percussion grenades, escalating the situation. Terrified families with their children, were caught up in the middle of the situation, however, this did not prevent the IOF from using violence, and firing live ammunition into the air.
The clashes continued for a few hours. Over 20 Palestinians were injured. Israeli Forces are supposed to stay in their controlled area of H2, where the illegal settlements are. However they are constantly encroaching into H1 which is controlled by the Palestinian Authority. While the soldiers patrol H1 streets they harass and provoke the local Palestinian population. These kind of patrols prevent any chance of a peaceful atmosphere in the city.