by Rosa Schiano
Translation by Claudia Saba

23 April 2012 | il Blog di Oliva
Israeli soldiers have already started shooting onto the land along the border of the Gaza Strip. Two injured just in the first two days of the harvest.
Renad Salem Qdeeh, 33, was collecting he crop from her land when Israeli soldiers started shooting, at around 7.30am or 8am. The other farmers managed to escape, but Renad started screaming as she was hit in the head while standing about 800 meters from the border. She was rushed to a hospital in Khuza'a and received ten stitches for her wound. We now come to find her lying on the bed.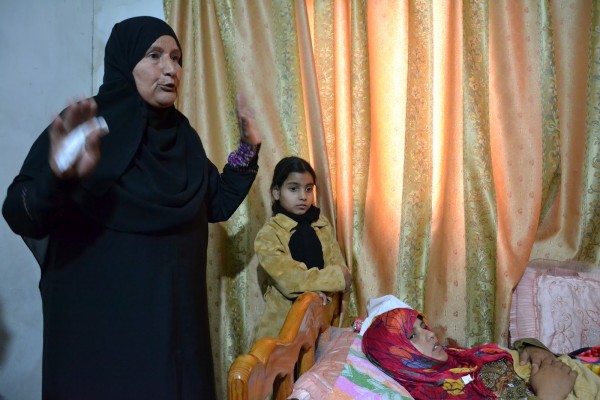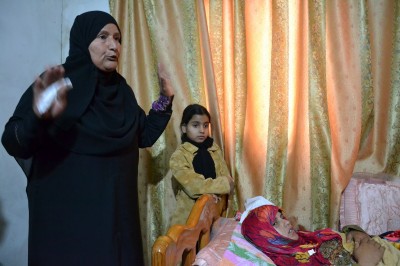 "First they took away 300 meters of land, and now we can't even work within 800 meters of the border, they're trying to throw us off our land", her mother – who can't hold back her anger and pain – tells us.
"We need to earn a living for the sake of our families", continues Renad's mother, "we wait all year long for the harvest period so that we can earn our living. My daughter has eight children, she has to feed them, we have no other income. They won't let us live on our land. We are asking for help and protection, so that the Israeli army will stop shooting at us."
"We are surrounded by soldiers, they shoot in all directions. Yesterday a boy was wounded in Khuza'a. Where are our human rights?"
Renad closes her eyes. She is surrounded by her relatives. We are offered some fruit juice. Everyone tries to talk to us and tell us about their specific circumstances, every one of their voices is a cry for help.
"Tomorrow I'll go back there to continue the harvest", Renad's mother says. "We will keep going back to our fields even if it means that we could get killed. What's a mother supposed to feel when she sees her daughter bleeding? The soldiers had every intention of wounding her. After they shot her, they just left – they had just wanted to shoot her."
"We've already lost most of our land. Now we risk death even at a distance of 800 meters from the border. They want us to go away. No, we're going to die here!"
Renad's relatives believe that the Israeli soldiers have been dumping chemical contaminants onto their land. Sometimes they smell something funny, but they're not sure what it is.
"Other countries can help us if they choose to," intervenes Renad's sister. "Without protection we cannot work our land."
"They confiscated 300 meters of land all along the border of Gaza, do you realize how much land that is? It used to all be fertile land, now it's all destroyed."
The No-Go-Zone imposed by Israel on 300 meters all along the perimeter of Gaza, and which has left some farmers without any land at all, was imposed by Israel unilaterally.
The following day we accompanied some farmers right into that No-Go-Zone. On the first day, the Israeli soldiers watched us without shooting. Jeeps drove past us at high speed, and the soldiers positioned themselves on the small watch towers along the border, while others stood behind a small hill. It's from behind the hill that the bullets come for the most part.
A couple of days later, however, matters changed. Soldiers positioned on the hill opened fire despite our presence there with the farmers. We shouted into our megaphones and asked them to stop shooting, and reminded them that we were on Palestinian land. At that point I switched on my video camera and filmed what happened next.
On the third day, the soldiers watched us without shooting. There was a constant flurry of armored vehicles and jeeps driving past at very high speed. The farmers are more afraid of the jeeps than of the armored vehicles, and they fear the military hummers most of all, because on top of the hummers you've got guns set up and ready to shoot.
Basically it is a case of an army against farmers. Soldiers who don't hesitate to shoot unarmed men as they go about harvesting their crop and as they carry it away on donkey-pulled carts. All the while as this terror is going on, F-16s hover at low altitude.
The farmers were able to work on the third day and they thanked us for our presence.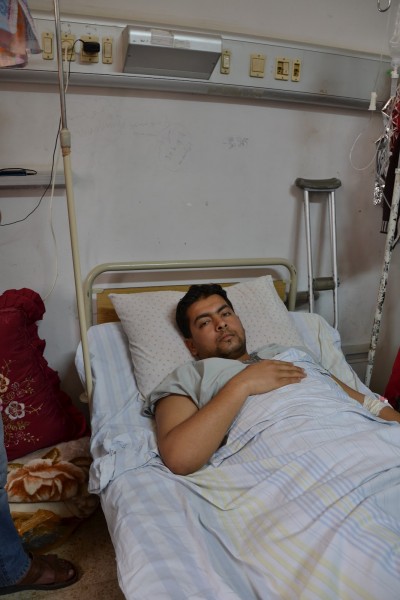 The day that Renad was injured, Hassan Waled Shnano, 27, was also injured. Except he wasn't working in the fields. He was simply walking to work, in Khuza'a, in an area that's about 2km from the border, not far from his house. We met him in the European Hospital in Khan Younis. "It's a residential area, a safe area. They started shooting very early in the morning", Hassan told us. Hassan works on various education-related projects in the NGO Mercy Corps in Khuza'a.  A missile hit him right in the joint of his right leg.
His father, who had inhaled white phosphorous during Operation Cast Lead, died of cancer. Hassan has five brothers and one sister. He is married with two daughters. One of his brothers was also injured in 2006 at the age of 15, as he was walking home from school.
This morning soldiers opened fire again at the farmers were trying to work in the fields of Khuza'a. We accompanied the farmers into a new field close to the one where we had been going up to now. Despite the sound of bullets in the air, the farmers just went on working, comforted by our presence with them.
Bullets were also flying in the adjacent field – the one where Renad's family farm. I shuddered as I watched the soldiers shoot. My hear trembled with every damned shot, I wanted to cry as I thought that maybe someone had been hit by those bullets. In the other field the soldiers did not stop shooting at all until after all the farmers had gone home – after having been prevented from collecting the crop under a shower of bullets. I took the following film this morning as soon as the soldiers first opened fire.
Every morning we will come back to Khuza'a to accompany the farmers, until the harvest has been completed. The farmers keep thanking us continuously. I respond by thanking them – I feel like I should be thanking them. They have no idea how lucky I feel to shake their hands, to look into their eyes which go on smiling despite everything. They have no idea how fortunate I feel to be able to defend their right to basic life.
Rosa is a volunteer with International Solidarity Movement.