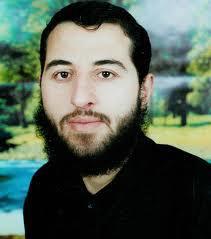 by  Silvia and Andreas
13 April 2012 | International Solidarity Movement, West Bank
Please SUBMIT pictures in solidarity with Hassan Safady
FREE HASSAN SAFADY
FREE ALL PRISONERS IN ADMINSTRATIVE DETENTION
Today Hasan Safady entered into his 42nd day of hunger strike. Ten months ago, he was brutally arrested from his home in the old city of Nablus and has since then been kept in administrative detention. Hassan's older brother Fouad Safady explains that their family have been denied any communication or visits to Hassan, so any information gained has been acquired through his lawyer. Since Hassan began his hunger strike he has been exposed to severe violence and beatings from prison guards. In a further attempt to silence his resistance, Hassan has been threatened with an 800 shekel fine for each day of his hunger strike. This will have devastating economic consequences for him and his family.
Hassan's condition became more critical ten days ago, when he was transferred to Ramla prison hospital. His health is said to have further deteriorated since he stopped taking water five days ago. This extreme measure was a response to his placement in solitary confinement. After being transferred to Ramla Hospital, Hassan's lawyer was presented with a report about his medical condition stating that he has severe pains in stomach and head, and that his kidneys are in danger of taking irreparable damage.
Until now his family has had no information of his release. Hassan has been in administrative detention for a total of 105 months during the last ten years. His family is unsurprisingly resigned about the situation; "They will probably release him at some point and then arrest him again after two or three months. They play with us," says Fouad Safad.
The Safady family has suffered irrevocably at the hands of the occupation. In 1996 Hassans brother Farik was killed by the Israeli army. Hassan's parents have had to watch as each of their children were imprisoned or detained in Israeli military jails. In a deal  like that of Hana Shalabi's, Hassan's sister and husband have been deported to Gaza in exchange for their freedom, adding to the agonizing division of the Safady family.
Outside the family home, pictures and posters of Hassan plaster the walls of a solidarity tent, a final act of resistance allowing friends and family to gather and share support. However, the Israeli army is determined to relinquish any remaining hope the Safady family may still hinder. On Sunday night the occupation forces entered the old city of Nablus, destroying the tent and tearing up photographs of Hassan.
Hassan Safady is one of many Palestinian prisoners who have found the refusal of food to be the only remaining tool in their political resistance to administrative detention. Hassan's hunger strike has now entered a critical phase, as everyday it becomes less and less likely that his body will ever gain a full recovery.
Immediate international attention and solidarity is needed for Hassan and his family as they continue their struggle for freedom and justice.
Andreas and Silvia are volunteers with International Solidarity Movement (names have been changed).