12 April 2012 | International Solidarity Movement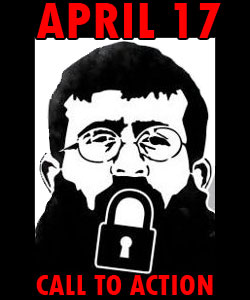 This week International Solidarity Movement is calling for international solidarity in the run up to Palestinian Prisoners Day on the 17th April.  The Palestinian prisoners struggle needs immediate international attention as Israel's treatment of prisoners under a military judicial system starkly violates international law and fundamental human rights.  According to Addammer there are currently 4,637 Palestinian political prisoners are kept in Israeli military jails and detention centers, including 320 administrative detainees.
Some of the primary objectives of the prisoners struggle are:
To stop the system known as administrative detention, which allows the imprisonment of individuals without charge or trail
To halt the practice of solitary confinement.
To stop the use of torture and ill treatment. Palestinians are exposed to systematic ill and degrading treatment from the moment of arrest – both physiological and physical terrors are used as means of breaking the prisoners and getting details and information.
To stop the illegal transference of prisoners from the occupied territories into Israeli borders. Every time Israel brings a prisoner from the West bank jails inside their borders – they are in clear violation with the 4th Geneva Convention.
To stop the use of military courts for civilians.
To stop arrest and imprisonment of vulnerable groups such as children, elder and disabled.
Besides the suffering of individual prisoners, Israel systematically uses collective punishment towards the relatives of prisoners. The journeys to visit your husband, wife, son, or daughter may take up to 15 hours as the prisoners are systematically placed as far from their home as possible. Furthermore, visitors will face degrading processes of strip search at the borders to Israel and at the entrance to the prisons. Sometimes they even get turned away.
"All people and governments of conscience in the world have an immediate responsibility to put pressure on Israel forcing them to respect International law and human rights!" says Faris Sabbah, from Addammer, the Prisoners support and Human Rights Association.
TAKE ACTION
You can:
Organize a protest in front of the Israeli Embassy or consulate in our town
Write letters to protest the violations of rights of Palestinian political prisoners and to call for an intervention to the International Committee of the Red Cross, UN Secretary General Ban Ki-moon and your governoment or parliamentarians.
Write letters to Palestinian prisoners expressing your support. Read more about thise here:
Submit your photos:
What ever action you choose to take – please submit photos from your action to ISM at palreports@gmail.com.
You can get inspired from similar ISM campaign carried out in accordance to "Open Shuhada Street Campaign."
Please follow these guidelines:
In the subject line please write " Campaign for international solidarity with Palestinian prisoners"
Photos should not be a maximum of 1 MB
A poster, sign, clothing or any other visual statement that expresses your solidarity with Palestinian prisoners should be visibel.
Include a location of the photo (example: Hollywood sign, Hollywood, California) in the email
Include the date when the photograph was taken in the email
If the visual is written in a language other than English, please write the statement in the body of the email in order to be translated.
Photos should be original and not edited or borrowed from another entity
Photos must be submitted by April 19th.