by Amal
26 March 2012 | International Solidarity Movement, West Bank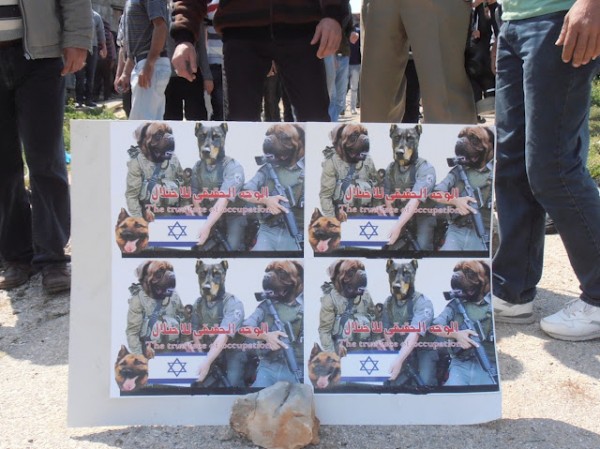 Neither the attack dog or the dogs of the Israeli court system could keep Ahmed's spirits down. He held his head up high as he walked into the court room, even while shackled by his feet and hands. His court hearing was rescheduled for a week from now.
On Sunday, the Israeli courts will determine if Ahmed will be released or given a prison sentence. On March 17th Ahmed was the victim of Israel attack dogs as he peacefully demonstrated against the Israeli occupation and its implications on the village, which is located near Nablus. Kufr Qaddoum's main road has been blocked off by Israeli military for the sake of a nearby illegal settlement.  The Israeli apartheid regime is trying to charge Ahmed with "participating in an illegal protest" and "throwing rocks at soldiers."'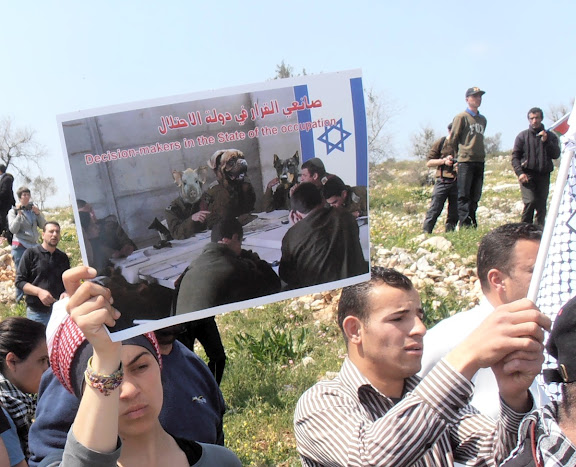 Ahmed's uncle, Murad, also was ordered to appear in court on Sunday. But it seems to be an intimidation tactic as Murad appeared and was told to "go home." An Israeli activist present in support of Kufr Qaddoum residents does not believe this will be the last time Murad is harassed by the Israeli courts.
Sunday, the public will know if Ahmed will be set "free." Regardless of the outcome, Ahmed will not gain his freedom until Palestine is no longer occupied. Until Palestinians see the end to illegal military Israeli occupation, Ahmed still will not be able to walk down the main road in his hometown. As a result of the apartheid system, Kufr Qaddoum and many other Palestinian towns will continue to protest for their freedom.
Amal is a volunteer with International Solidarity Movement (name has been changed).