by Silvia
21 February 2012 | International Solidarity Movement, West Bank
Five years ago Abed Seder's wife, Kefah, was shot five times in the chest by Israeli soldiers as she went onto her roof to check her water tank. She was 23 years old and left three sons motherless. He tells me his sons are afraid to go on the roof, which overlooks the illegal Zionist settlement of Beit Hadassah. To an international community, Abed's struggle is one of trauma and loss, but he tells it with shockingly familiar regularity.
Abed´s home is sandwiched inbetween Beit Hadassah and Beit HaShisha settlements, from which he receives regular torrents of abuse and violence. Rubbish and broken glass bearing Hebrew writing litters the path to his front door, bypassing the nets which attempt to catch the used nappies and toilet roles. His windows have been boarded up from the outside by Israeli soldiers in an attempt to prevent settlers from throwing molotov cocktails into Abed´s home. Abed shows me the view from his caged bedroom window, which looks directly onto a neatly planted playground, complete with basket ball court where the children of immigrant Zionists can enjoy the sunshine. As one of them raises their middle finger, Abed tells me that they regularly throw water and beer bottles so they try to keep the window closed.
Perhaps the saddest victim of this has been Abed´s 6 year old son Wadia, who was left blind after Abed´s neighbours threw chloric acid from their rooftops two years ago. He was just four years old.  Wadia has since been seeking treatment in a hospital in Jordan while Abed and his wife can only afford to visit him once every three months.
In 1967 Israel occupied Hebron along with the rest of the West Bank. The settlement of Kiyat Arba was established on the outskirts of Hebron in 1968, later allowing for communities of settlers to illegally occupy properties such as the Hadassah Hospital and other Palestinian neighbourhoods such as Tel Rumeida. Hebron is currently home to over one hundred thousand Palestinians, who are suffering at the hands of some 500-800 settlers protected by a constant Israeli military presence.
Since the Second Intifada, settler violence has escalated in the city of Hebron with illegal settlers routinely attacking and violating the rights of their Palestinian neighbours. B'tselem has recorded incidents of physical assaults, including beatings, stone throwing and hurling of refuse, sand, water, chlorine and empty bottles. Settlers have destroyed shops and doors, committed thefts and chopped down fruit trees. Settlers have also been involved in gunfire, attempts to run people over, poisoning of a water well, breaking into homes, spilling of hot liquid on the face of a Palestinian, and the killing of a young Palestinian girl.
"Price Tagging" has become a coined phrase for the violent, illegal, Zionist settlers "struggle" as they continue to illegally steal land throughout the West Bank. On 24 July 2008, after Israeli security forces removed a bus that had been placed in the Adey Ad outpost, the head of the settlers' struggle headquarters in Yitzhar was quoted in Ha'aretz as saying,
"The police have to understand that there will be a very high price tag on any event of this kind."
He described the harm to Palestinians as "a display of good citizenship that is intended to help the police enforce the planning and building laws in the area on Palestinians, too." Collective punishment is illegal under international law and is a violation of the Geneva Convention.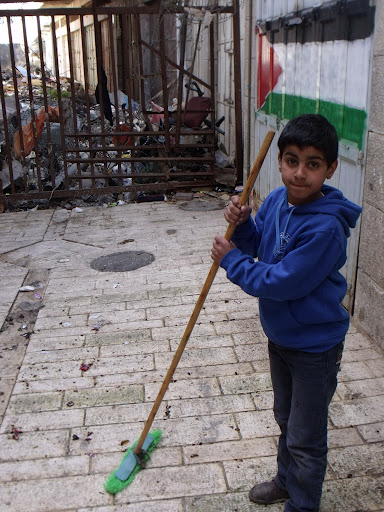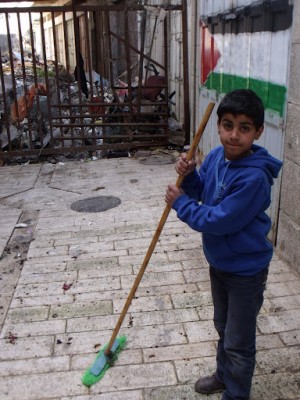 B'Tselem has investigated many incidents of settler violence and stated to have found that "Israeli forces intervened late, usually when Palestinians begin throwing stones at their attackers. The late response cannot be justified, as these incidents are part of a pattern and can be predicted.  They conclude that "the security forces must prepare in advance in a way that will enable them to prevent harm to Palestinians." B´Tselem stated that the authorities have systematically failed to enforce law and order against violent settlers attacking Palestinians.
Human rights worker Hisham Shabarati explains the relationship between the soldiers and the settlers as a kind of role play, where by "settlers are able to make the actions the military can't." He describes settlers as a political instrument able to carry out random and brutal attacks under the protection of Israeli soldiers.
"They have the same agenda; to make life unbearable for the Palestinians."
Abed Seder's home in the Old City of Hebron is four hundred years old. His brother and four children live above him and his great-grandfather lived here before them. For Abed, the act of resisting occupation stretches for as far as he can continue to live in the home which he legally owns. Its traditional arched doorways and original winding stairways make his home a desirable target for many settlers looking to move into an area which former Prime Minister David Ben Gurion described as "more Jewish even than Jerusalem."
As long as Israel protects the rights of illegal settlers in Hebron over the rights of the Palestinian people, Abed and his family will suffer.
 Silvia is a volunteer with International Solidarity Movement (name has been changed).