31 January 2012 | Palestine Solidarity Project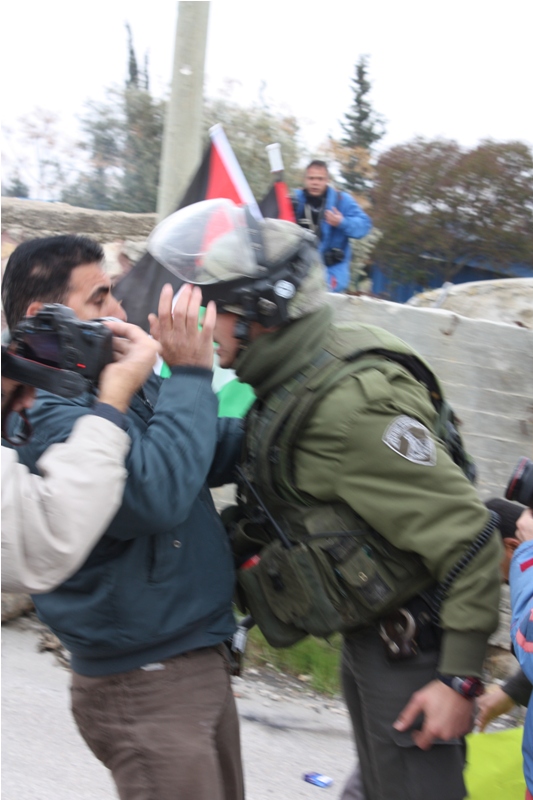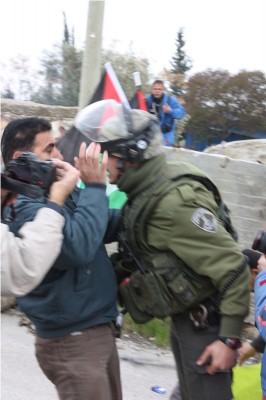 On Tuesday, January 31st, 2012, Beit Ommar villagers demonstrated near Route 60 at the entrance of the village to commemorate the one year anniversary of the murder of Yousef Ikhlayl, a 17-year-old Beit Ommar youth who was murdered by Israeli settlers on January 28th, 2011. The demonstration was organized by the Popular Committee in Beit Ommar and was supported by the Palestine Solidarity Project, the Popular Committee in Yatta, and several other Palestinian organizations.
As the demonstrators approached Route 60 at the entrance of the village, dozens of Israeli soldiers blocked their path and attacked the gathering with tear gas, sound bombs, and beatings. Israeli Forces used wooden clubs to strike at activists, and four demonstrators were injured. Yousef Abu Maria had his nose broken, Emad Abu Hashem was hit in the forehead with a club, Ahmad Abu Hashem was hit in the head with a soldier's rifle butt, and Jamil Shuhada, an Executive Committee member for the PLO, was beaten with clubs and rifle butts.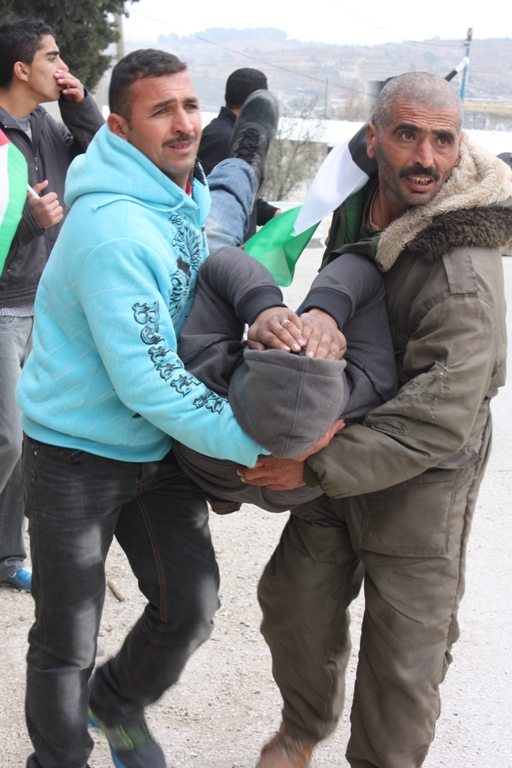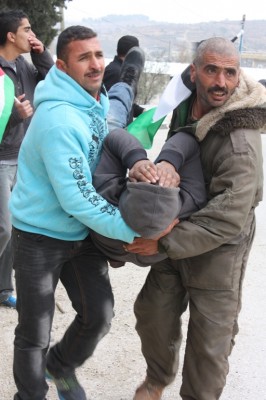 The demonstrators remembered Yousef's murder with the following demands:
Try the murderers of Yousef Ikhlayl (the settlers came from Bat Ayn, one of five Israeli settlements built on land stolen from Beit Ommar villagers. To date, no settler has been arrested, let alone investigated, for Yousef's murder.)
Dismantle the Bay Ayn settlement
Open the closed military roads around Beit Ommar which prevent farmers from reaching and cultivating their lands.
Free all Palestinian political prisoners.
Remove the Israeli military watchtower and checkpoint at the entrance of Beit Ommar and allow area residents freedom of movement.