by Carol Vans
15 December 2011 | International Solidarity Movement, West Bank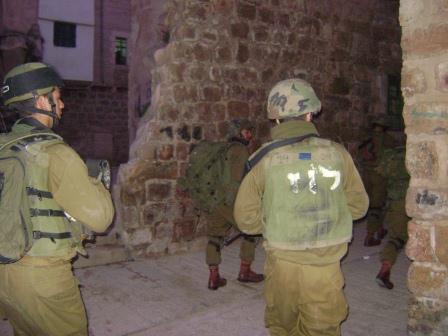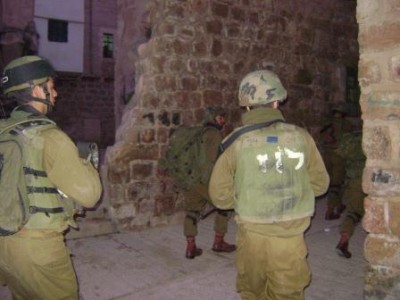 Today on December 15, Israeli soldiers raided private property and at least one school in what appeared to be a military excercise in Hebron. Around 7:30 in the morning soldiers entered the playground of Ibrahimi elementary school and claimed that children had been throwing pieces of plastic. When the director was notified and went outside to talk to the soldiers, the military captain picked up a piece of glass from the ground and accused the children of throwing glass as well. The captain then threatened to close the school if it would happen again, but it remained unclear as to what excatly he meant since he was in the schoolyard of an elementary school where children frequently play during their breaks.
In the occupied area of Hebron known as H2, soldiers entered a family's residential building and positioned themselves on the roof where they threw soundbombs and pointed their weapons towards civilians on the street. When ISM was notified soldiers on the street prevented them and other residents in the area from crossing the permanent barrier. One man living in the area referred to the event as an "excercise madness" and raised concern over children living in the area. After entering the homes the soldiers later withdrew into the nearby observation tower but returned back to the house after a short period of time. When internationals from the ISM followed the soldiers tried to block them from reaching into the building. When asked about the reason for the exercise in someone's private home, the soldiers claimed that they needed "to stay in shape."
Families living inside the apartment had not been notified of the exercise and did not know the reason why their homes were being used as military training camp.
In the Old City soldiers entered several families homes and continued to move up to the rooftops were they took firing positions towards the street were men, women and children were moving. At one instance soldiers lined up approximately twenty teenagers against the wall choosing two of them to stay and ordering the rest to leave. The two teenagers that were left were encircled by 6 soldiers who staged an arrest in what appeared to be part of the exercise.
Israeli soldiers frequently raid Palestinian homes and property in the occupied area of Hebron known as H2.
ISM regards the recent aggression against Palestinian civilians as part of escalating harassment, violence and attacks made by Israeli soldiers and settlers stationed in the area and surrounding illegal settlements. Israeli occupation of the Westbank and Hebron is considered illegal under international law. Many international organizations and human rights organizations have expressed deep concern over the situation in Hebron where between 3000 to 4000 soldiers are protecting the approximately 500 settlers who are occupying the city centre from within.
Carol Vans is a volunteer with International Solidarity Movement (name has been changed).