by Guillaume and William
15 November 2011  | International Solidarity Movement, West Bank
This morning, on Tuesday 15th  November, national day of Palestine, three houses in Al Qasab near Jericho were destroyed by the Israeli military.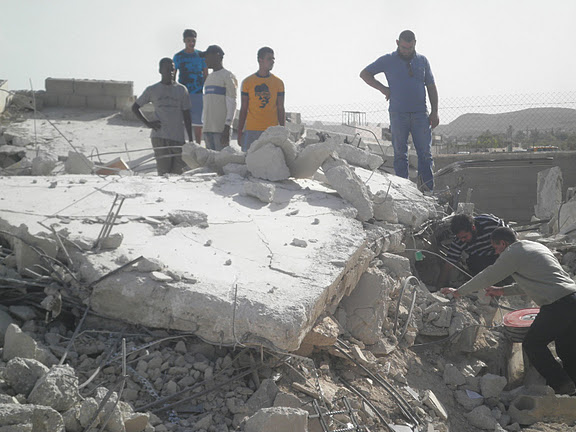 During the early morning, between two and three hundred Israeli soldiers entered Al Qasab with bulldozers and destroyed the houses. The village is in Area C; under full Israeli administrative and military control.
 The Fakhori family had some time to move some furniture and belongings outside before their house was destroyed as they were present when the Israeli military arrived.  The two other families were absent and didn't have the chance to salvage any possessions.  They returned to find their homes reduced to rubble, with all their belongings inside.
 No one in the village was informed of the reason for the demolition and no prior warning or legal order was delivered. One of houses was built just two years ago and the family had a permit to build  from the Israeli administration.
 The three families must now find a roof to cover their heads tonight. One family is able to move in to his father's house, but  it is not known what the others will do.  Naturally, the victims are distraught.  They asked us 'Who will pay for this?' but they are under no illusions; they know that neither the Israelis or the Palestinian authorities will provide them with any help.
Guillaume and William are volunteers with International Solidarity Movement (names have been changed).