by Anders and Aurelie
30 October 2011 | International Solidarity Movement, 2011
What started as a peaceful demonstration soon erupted into violence when soldiers and settlers from Karmei Tzur settlement attacked a demonstration in Beit Ummar today. The demonstration of around 30 Palestinians and internationals started from the outskirts of the village and continued through a field of olive trees to a fence which separates the village from the settlement.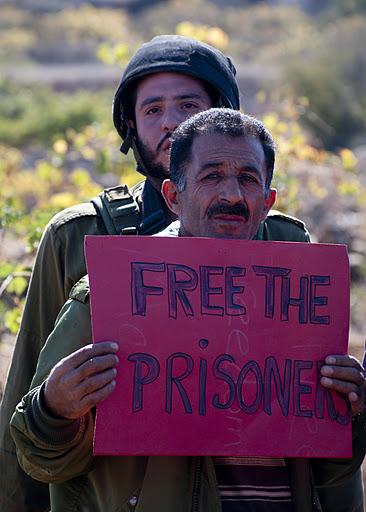 A group of soldiers from the settlement entered the field and positioned themselves in front of the fence and initially let the peaceful demonstration continue. Settlers from Karmei Tzur arrived soon after and began to verbally abuse the protesters. Arguments broke out between the demonstrators and the soldiers who responded by deploying a few sound grenades and a canister of teargas. The demonstration continued but the atmosphere became increasingly tense.
The settlers and some of the demonstrators entered a shouting match between each other, and the military then decided to force the demonstration back towards the back of the olive field by using a significant amount of teargas. Encouraged by this, the group of settlers began hurling stones and rocks from behind the fence and a Palestinian journalist from a French agency was taken to hospital with a head wound.
Before being taken to the hospital, the journalist said, "The strange thing was that the soldiers didn't stop the settlers, but they used violence against the demonstrators and journalists…they left the settlers free to throw stones."
Three people suffered from teargas inhalation, among them a 74 year old French woman and two villagers.
Beit Ummar is a village located to the south of Hebron. There are weekly demonstration against the illegal Israeli setllement. The security fence seperates Beit Ummar from the settlement of Karmei Tzur. It has expropriated a significant amount of Beit Ummar´s land.
Anders and Aurelie are activists with International Solidarity Movement (name has been changed)