12 March 2011 | International Solidarity Movement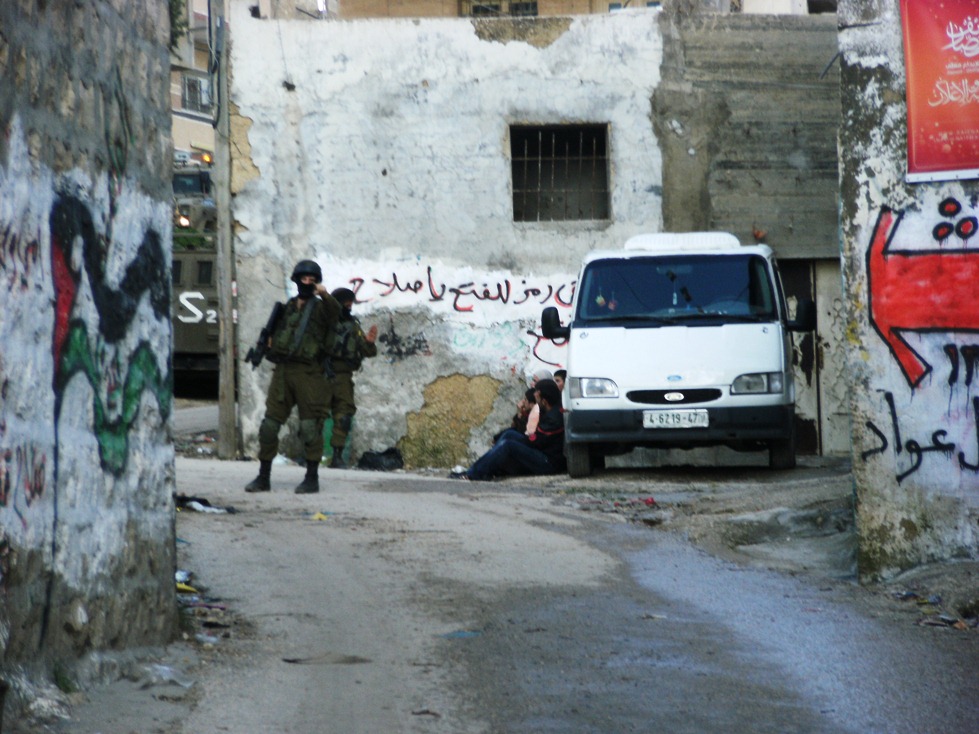 Today the village of Awarta, the Palestinian village located closest to the illegal settlement Itamar which witnessed the murder of an entire settler family this morning, was put under severe military restrictions. According to the village council, 19 people are still in custody after the Israeli military raided the village early this morning. Around 8 am the Israeli military cut off the roads to the village, preventing anyone from entering or leaving. Around 25 people were arrested in total, among them a 14-year-old boy.
When the soldiers entered the houses to arrest people they flipped over furniture, smashed windows, threw sound grenades and shot bullets in the air.
Around 3 pm the soldiers returned a second time to search houses of the families who's sons had been arrested. They forced the families to stay outside under armed guards for an hour while about 20 soldiers with dogs entered their houses. As they had done in the morning, the soldiers turned the houses completely upside-down, destroying the electricity by cutting the cables to the fuse box, and polluting the drinking water by throwing mud in the water-tanks. Computers and phones were destroyed and money and property were stolen by the soldiers. Once again the soldiers threw sound grenades inside and outside the houses.
While the soldiers were searching the houses, the families, including women and small children, were forbidden to drink or eat.
It has been reported that an 80-year-old woman who suffers from diabetes and high blood pressure was beaten by the soldiers. She was taken to the Rafidia hospital in Nablus.
Around 6 pm the soldiers left the village, but residents of Awarta are scared that settlers will attack again during the night. No one knows if or when the army or the settlers will return to the village.
The families of the men and boys that were arrested do not know where their sons, fathers, and brothers are or when they will come home.
Even though this kind of systematic collective punishment is illegal according to International law, is it frequently used by the Israeli military all over the West Bank and in Gaza.