23 December 2010 | International Solidarity Movement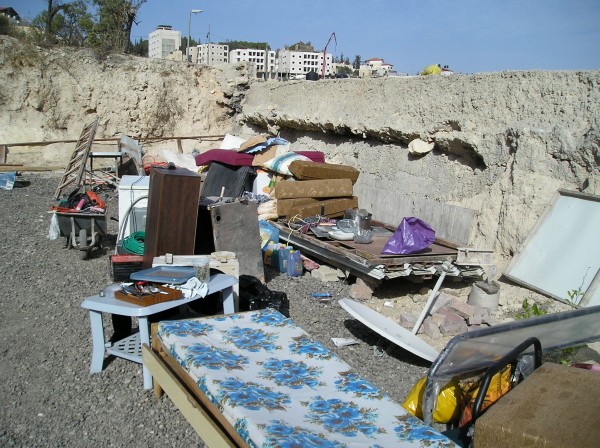 Tuesday, Israeli authorities demolished a Palestinian home in Ras al Ahmud, East Jerusalem. ISM activists interviewed family members left homeless by the senseless demolition.
On December 19, 2010, Israeli soldiers entered the East Jerusalem neighborhood of Ras al Ahmud and left a demolition notice on the window of a Palestinian home. The families inside were faced with a wrenching decision: demolish their own home and pay a fine of 60,000 shekels or refuse and watch as soldiers demolish their house and punish them with a fine of 120,000 shekels. Soldiers showed up outside with a bulldozer. Finally, on December 21, they tore down their own house.
"It felt so bad to take the house down. To even think for one minute that we wouldn't have a home – what do you do? My father bought this land over 40 years ago," explained Rami.
Three families lived in the house, a total of 13 people, including 4 small children.
The Red Cross donated tents and some supplies to the family. Later, a representative from the UN visited the site.
\On Thursday, the families were living in two white tents and a makeshift shelter. Two days had passed since the demolition. A heap of metal and the frame of the roof lay on the dusty ground where their house once stood. Off to one side, stacks of their possessions were exposed to the elements – boxes of clothes, drinking glasses, a refrigerator. Some doors and wood paneling were leaning against a fence.
"A big problem now is the bathroom," said Rami, "We don't know how we will pay the 60,000 shekels. We are sleeping here in these tents and we don't have anywhere else to go."
Just this week in East Jerusalem, demolitions in Nu'man Village, Sur Baher, and Ath Thuri have left 11 other Palestinians homeless.