16 October 2010 | International Solidarity Movement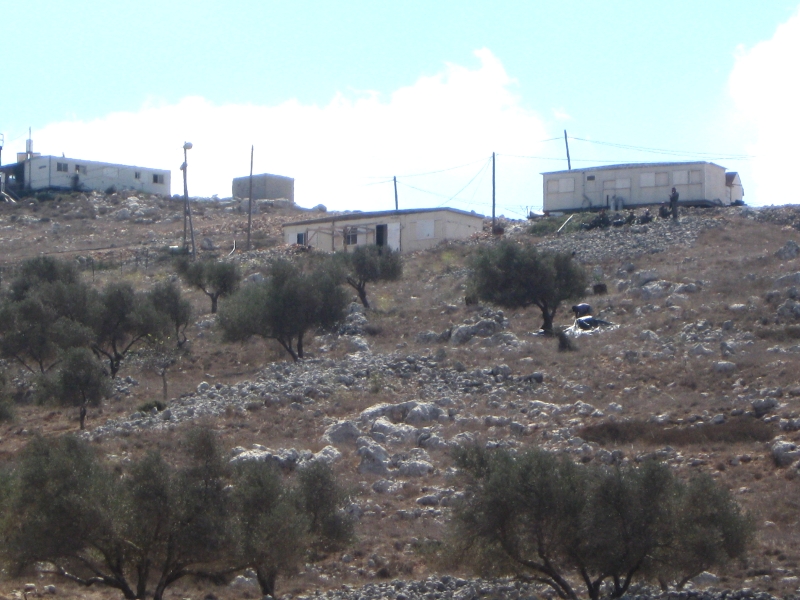 Today farmers in Burin, a village located south of Nablus, were forced to abandon their olive harvesting when about one hundred settlers came down to their fields. The settlers came from the illegal settlement of Bracha, Yitzhar and from the outpost located on another hilltop. Villagers reported that the settlers threw rocks and shot slingshots, aiming to hit the farming families and children. One farmer was hit by a rock that caused a bleeding injury. The settlers also verbally harassed the Palestinians, shouting statements such as "This is not your land, go to Jordan" or insults to the Prophet Mohammed.
The families left their farmland, and other villagers returned to the hill of Burin where the attack took place. There was little they could do to help, other than bring the bags of olives to safety. 20 minutes later the Israeli army arrived with 8 jeeps, after being contacted by the Palestinian District Coordination Office (DCO), and the settlers retreated towards Bracha and the outpost. Apparently, the soldiers detained one of the most violent settlers.
The villagers of Burin have been suffering from settler attacks for many years. Settlers have come down several times in the last few months, setting fire to hundreds of olive trees to ruin an essential part of the farmers' income. Farmers have had their olives stolen after spending hours picking and preparing them in sacks. Several people have been injured by rocks thrown by settlers; in September a man had to be taken to the hospital after being hit by a rock. The olive harvest is a dangerous and critical time for many farmers in the area as settlers known for their ideological extremism use violence to keep the Palestinian farmers away from their own land.