This weekend the Organization for Economic Cooperation and Development (OECD) conference was held in Jerusalem, despite pressure from human rights groups for it to be held elsewhere or not at all. After their insistence on holding the conference here, ignoring Israel's blatant violations of international law and colluding with their aspirations to claim Jerusalem as an Israeli capitol, we were forced as activists with conscience to confront the participants with criticism, posters, and a giant banner.
We came upon a detailed schedule for the "Round Table" conference of high profile OECD ambassadors, and were thus able to meet them at the Jerusalem Bird Observatory, 8:30 AM on Friday. Our signs had pictures of ostriches with their heads buried in the sand, and the slogan "Don't Close Your Eyes to Apartheid" in several different languages. They were surprised to find us there. We were told to stand at the exit, but all of the ambassadors still had to pass us on their way out. A few smiled, but most quickly averted their eyes or glared at us.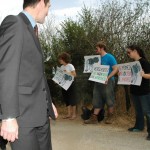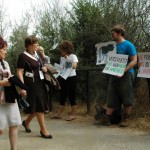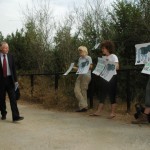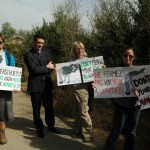 click for full sizeSaturday we dropped a ten meter wide banner off the Calatrava bridge at the entrance to Jerusalem, that again said "Don't Close Your Eyes to Apartheid," and had an "OECD Approved" stamp over a photo of the Apartheid Wall. As a result of Shebat, there were no police in the area so our banner remained in place for at least a few hours. Some Israeli passersby attempted to untie the banner, but were unsuccessful due to our proficiencies in knotting. A few boys tried to pull the banner back up onto the bridge, but when they saw us filming them they threw it back over and ran away.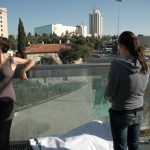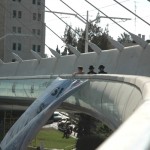 click for full sizeDespite Israel's persistent violation of human rights as protected by International law, the OECD — whose member countries include most of the rich countries of the world — granted Israel membership on May 27th this year. This not only symbolized diplomatic approval of Israel's policies on the part of the most powerful countries in the international community, but also brought many potential economic benefits to Israel.