12 January 2010
For immediate release:
Palestinian hip-hop artists DAM and System Ali will play live in Sheikh Jarrah Thursday, January 14, starting at 7pm. The event is being held in support of the families of Sheikh Jarrah facing eviction from their homes.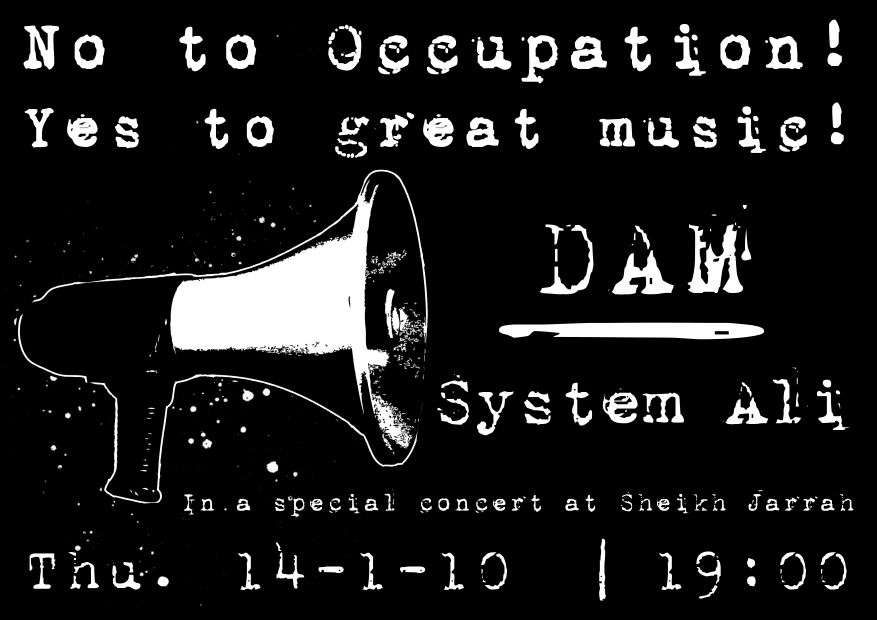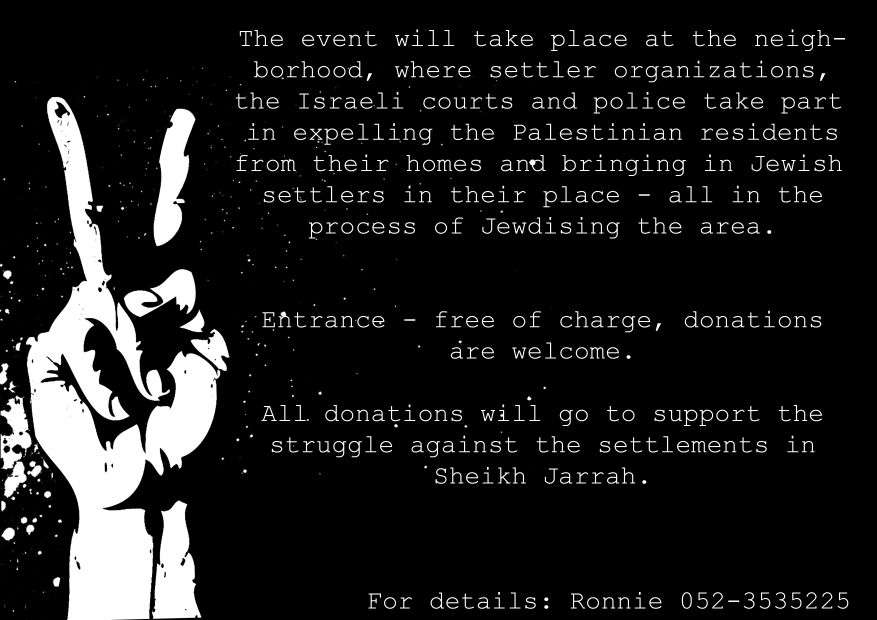 The show marks another event held in Sheikh Jarrah to gain support for and raise awareness of the tragedies wrought on the Palestinian families in the neighbourhood. The weekly Friday march from Zion Square in West Jerusalem to Sheikh Jarrah have been gathering momentum, with the demonstrators numbering in their hundreds. Dozens of Israeli and international activists have been arrested for their participation in the demonstrations and ongoing activist presence in Sheikh Jarrah, including American citizen Ryan Olander who has been held in Ramle prison since his arrest on the 18th of December and threatened with deportation.
Background
Approximately 475 Palestinian residents living in the Karm Al-Ja'ouni neighborhood of Sheikh Jarrah, located directly north of the Old City, face imminent eviction from their homes in the manner of the Hannoun and Gawi families, and the al-Kurd family before them. All 28 families are refugees from 1948, mostly from West Jerusalem and Haifa, whose houses in Sheikh Jarrah were built and given to them through a joint project between the United Nations Relief and Works Agency (UNRWA) and the Jordanian government in 1956.
The ultimate goal of the settler organizations is to evict all Palestinians from the area and turn it into a new Jewish settlement and to create a Jewish continuum that will effectively cut off the Old City form the northern Palestinian neighborhoods. On 28 August 2008, Nahalat Shimon International filed a plan to build a series of five and six-story apartment blocks – Town Plan Scheme (TPS) 12705 – in the Jerusalem Local Planning Commission. If TPS 12705 comes to pass, the existing Palestinian houses in this key area would be demolished, about 500 Palestinians would be evicted, and 200 new settler units would be built for a new settlement: Shimon HaTzadik.
Implanting new Jewish settlements in East Jerusalem and the West Bank is illegal under many international laws, including Article 49 of the Fourth Geneva Convention. The plight of the Gawi, al-Kurd and the Hannoun families is just a small part of Israel's ongoing campaign of ethnic cleansing of the Palestinian people from East Jerusalem.