12 November 2009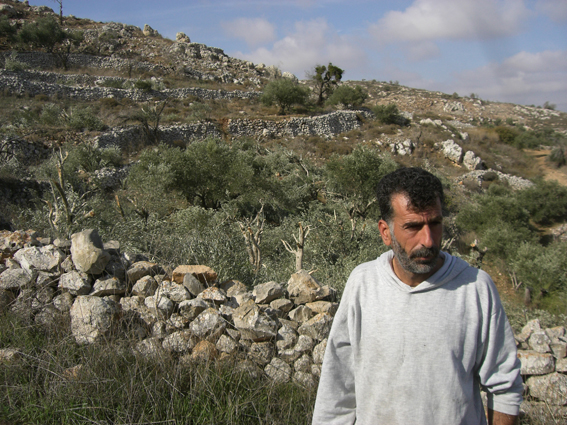 A group of 25 settlers from Yitzhar settlement, south of Nablus, cut down 97 olive trees in the village of Burin this morning. The attack comes on the heels of a similar attack made 5 weeks ago, and a continued campaign of intimidation and harrassment of Burin's residents from nearby settlements Yitzhar and Bracha.
Approximately 25 settlers began hacking the trees to pieces at 3am this morning. Although cutting manually, the noise awoke a Palestinian resident, whose house is located close to the scene on the Yitzhar 'side' of Burin. After alerting the village, the Palestinians arrived in the olive grove as it became light to survey the damage, amongst them the owner of the land, Burin farmer Akram Brahim Embran. They counted 97 trees destroyed.
It is not the first time this year that Burin's olive trees have been caught in the middle of territorial violence, for which Yitzhar settlers are notorious. On 4 October, a neighbouring grove was wiped out when 25 settlers took to the trees with axes in the early hours of the morning, just one day before the village's olive harvest was due to commence. Previous years have seen fields burnt and crops stolen, in addition to continual settler harrassment and intimidation. The havoc it wreaks on Burin's economy is obvious, agriculture its main source of income – and identity.
The village of Burin and its surrounding neighbours have been subject to numerous violent attacks from the two illegal settlements of Bracha and Yitzhar that sandwich the local Palestinian villages. Burin village as also lost thousands of dunams of land from annexation by settler construction or proximity, in addition to the repeated attacks on its remaining farmland. In 2006 settlers from the settlement of Bracha fired homemade rockets on the village, burning a house down.
Settlements are illegal under international law and both settlements have numerous outposts that continue to annex further Palestinian land in violation of both Israeli and international law.