18 November 2009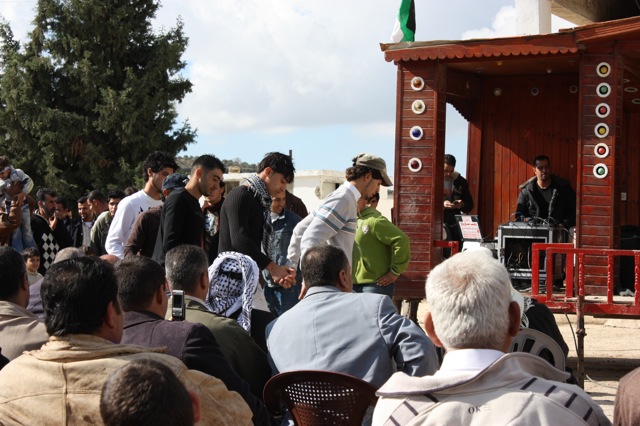 On Wednesday 18 November, the village of Burin (south of Nablus) celebrated the successful conclusion of its olive harvest. More than 400 villagers came together to hear speeches by locals and nationally renowned politicians (including member of Knesset Mohammed Baraka, general secretary of Hadash), as well as to see the young men of the village dance the Dabke, the traditional dance of Palestine.
A large stage with sound system had been set up outside the local boys' school and the festivities commenced at around 11am. Braving weather that seemed to change every 5 minutes from pleasantly warm to freezing cold, the villagers listened to speeches and music in clear view from the illegal settlement of Yitzhar, one that has caused its fair share of problems for the village during the harvest.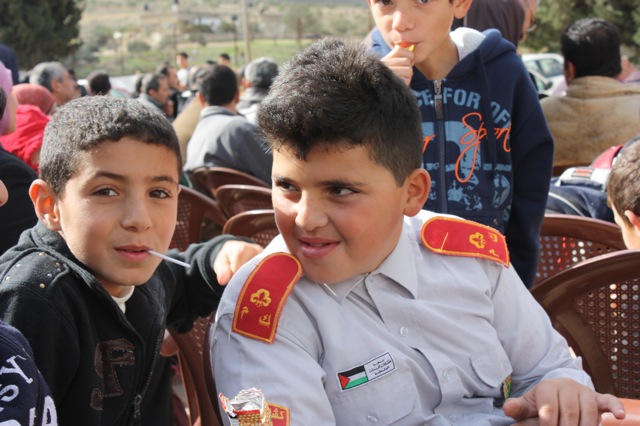 Only 6 days before the event, settlers from Yitzhar attacked the fields of Burin, cutting down 97 trees. On 16 October, farmers as well as internationals were threatened by armed settlers while attempting to harvest the olives and on 28 September 150 olive trees, covering 4 dunams of land, were destroyed by settlers armed with chainsaws. It was therefore not only the end of harvesting that the residents of Burin celebrated that day, but also their success in continuing to work their fields despite persecution from their extreme-Zionist 'neighbours'.
International activists from the ISM and Michigan Peace Team took part in the event, and a member of the ISM gave a brief speech on behalf of the internationals, thanking Burin for welcoming them and vowing that Palestine would never stand alone in its struggle against the occupation.