Sharon Lock | Tales to Tell
13 March 2009
Excerpt from 'The high cost of living'
The price of fish…
Yesterday I went to the Kabariti family for Friday lunch, a fish barbeque. I took with me three of the "letters from the world" that were delivered by the Free Gaza boat last year. These letters were from a mother and her two daughters in California, so we decided to give them to the Kabariti girls and their mum, all of whom read English.
The girls and I sat in the sunny front window and they excitedly began to read their letters and compose messages to email in reply (no postal service is possible under siege.) A few minutes later I realised I could hear shooting. Their dad M always keeps binoculars beside the sea window, but I didn't need them. Looking out, I could see two Israeli gunboats well on this side of the horizon, looping about and firing on Palestinian fishing boats. No more than three miles from the shore
Some of the little boats began to head back to the port, so I stomped off down the street to meet them, as the shooting continued, to see what I could find out. I spoke to Ahmed Abel Aziiz, who had just tied up his boat. He said the shooting had been going on half an hour and he was giving up for the day, but he thought that more than ten boats, some medium and some small like his, were still out there. Nobody was arrested or wounded yet. I stomped back to eat my lunch, pleased to see the Kabariti kids out in the garden after their weeks of hiding inside, but eyeing the parsley in the salad and the fish on my plate with part respect and part despair.
Later on I rang M and he said that fishermen Zaki Tarouch and Talal Tarouch, and Dahr Zayad and his son, had been arrested by the Israeli gunboats. He also said we are entering the three best months for fishing, the time the fishermen depend on to get them through the rest of the year.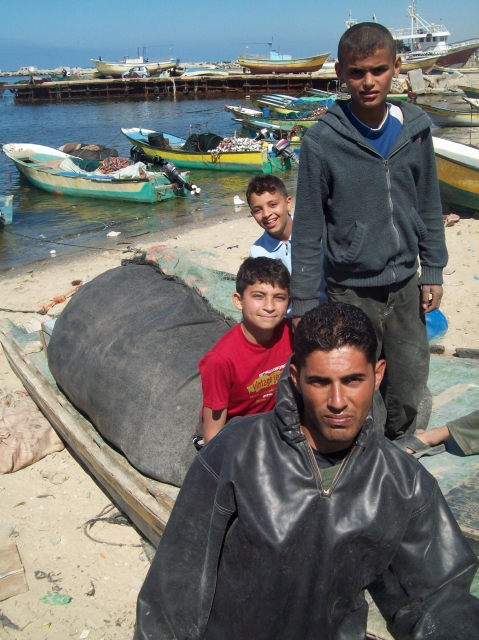 We went to Al Wafa Rehabilitation hospital also yesterday, said hi to Abd, delivered the chess set your donations bought him, and announced we would be practising both chess and insertion of cannulas on him next visit. He looked perturbed. E introduced me to Abd's fellow patient, Maher, who you can assist via our Donate page (shot fisherman Rafiq is there too) who is carrying on the Palestinian tradition of being determinedly cheerful after surviving his own war nightmare. Which in his case involved not only losing those close to him, but ten minutes in the morgue refrigerator…
The fishermen were released in the night, but their boats – their method of earning a living – have been kept by Israel. As we enter the three months Gaza fishermen depend on the most.