December 29th 2008 – Abu Dis
A young Palestinian man is in critical condition after having been shot three times with rubber-coated steel bullets by Israeli forces. He was shot from two metres away while attending a demonstration in solidarity against the Israeli massacres in Gaza on the 29th December. He is currently in critical condition in Muqassad Hospital in Jerusalem.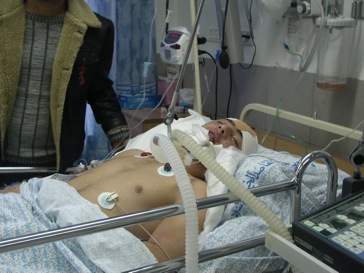 The demonstration in support of the people in Gaza took place at 5pm in Abu Dis in the centre of the town, near the mosque.
Hammam Al-Ashari, 18 years old, was on his way with his friends to the main street of the city at 6:30pm. As he walked up a stairway, Israeli soldiers shot him with three rubber-coated steel bullets in the head from 2 metres away. Three other people were also hit, but were treated at the local clinic.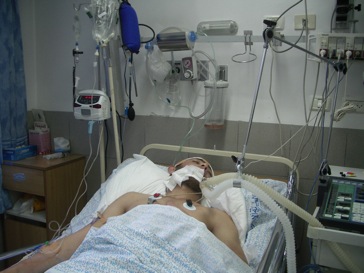 The military prevented the waiting ambulance from reaching Hammam for half an hour. When the medics finally reached him they saw from the blood track near the boy that the soldiers had dragged Hammam several meters along the ground. First the medics assumed that the soldiers had treated Hammam because of a bandage around his head, but they soon realised that the soldiers had not even cleaned the wounds.
Hammam was immediately taken to the Muqassad Hospital in Jerusalem and treated for 7 hours. From the CT scan of his head the doctors could see two of the bullets, but from the wounds to his head they knew been shot three times. They found the last bullet in the back of his brain, but because of the plastic that covers the bullets, it had made a reflection and the bullet had not appeared on the CT pictures.
The doctors assessed that the treatment from the soldiers and the plastic around the rubber-coated steel bullet were two factors that had worsened Hammams condition.
Hammam al-Ashari is still unconscious and in a critical condition.