By Sharon in Gaza
To view Sharon's blog please click here
This will be hurried as very short collision of internet, electricity, and me, before we have to head for our night time locations before dark.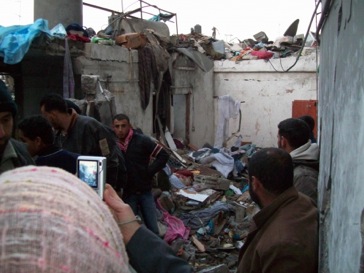 Last night my group went to Al Awda hospital in order to be in the Jabalia region in case of incursion. One of the targets bombed by Apaches was a mosque near us; the next door shop and house were also destroyed, the rubble collapsing on top of the six daughters of the Belusha family.
I watched live footage as they tried to extract the single traumatised little girl who survived. The others were dead. We visited the site this morning, catching a ride back to Gaza city with a driver whose eyes were full of tears.
In Gaza I went to see the Kabariti family in the port area, who you will recall hosted us for Christmas Eve. They confirmed the entire Gaza coast was shelled all night from about 1am, with the shells apparently coming from Israeli ships too far out at sea to be visible. We could see this happening from the top of Al Awda hospital, counting 14 shells in a row at one point to the little port where the Dignity docks. Any boats linked to the government were bombed, as well as several which weren't, including that belonging to human rights defender Dr Eyyad Saraj. When the extinguisher boat tried to put out resulting fires, it was bombed. The port offices were bombed.
The Kabariti family, whose 6 children range from 4 to 18 years old, had spent a frightened night and appeared exhausted. As they talked to me this morning, another missile hit the port across the road. I had not seen the family since the strikes began on Saturday; I spoke to their oldest son and daughter who described being at Karmel High School when rockets hit the building in the initial strikes. H said he had stayed outside the gate for a last 5 minutes studying for his exam, thus avoiding injury when this happened. Now he doesn't know if the exams will even happen.
The children told me their 11 year old cousin had to carry an injured kindergarten child to the hospital when Al Wahda school was hit at the same time. The children's mother R is worried about her parents; they live above a money exchange and the rumour is these will be targetted next; this has happened twice before in past Israeli attacks. They told me that in another area of Gaza a medical supplies storage building was bombed and the gas station next door to it exploded.
EJ and Mo visited the Islamic University which had 5 rockets dropped on it by F16s at around midnight; the 5 story Women's Building (in which I had attended some Midwifery degree classes), the Admin Building, and the Technical Building were reduced to a pile of rubble. The damage extended to the neighbouring Al Azahar University.
Please bear in mind that these are only a number of the multiple hits that have occurred, they are just the ones I have been made aware of in a hectic day.
Tonight we are going to the same regional locations as last night. We have several arrangements to ride with ambulances visibly in case of incursion.
Thank you so much for all your messages of support, demonstrations and actions and media work. I am so sorry I can't reply individually to such supportive emails.