On Monday September 8th 2008 approximately 100 Palestinians, Israelis and international solidarity activists marched in protest towards the construction site of the illegal apartheid wall in Ni'lin.

Video By Israel Putermam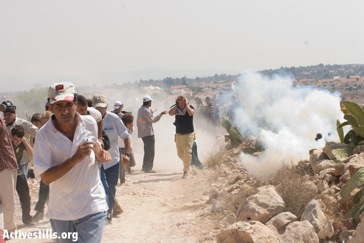 Photos courtesy of Activestills
The protest started at 1pm and ended at approximately 4pm. Rubber-coated steel bullets, tear gas and sound bombs were shot at the non-violent protesters. In the end of the protest the Israeli army used verbal violence and yelled "Inte Shamuta" (you are a prostitute) to the shocked protesters.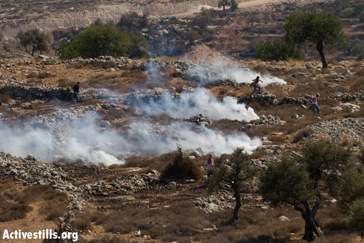 The Israeli army stopped the non violent protesters in the fields before they reached the focus point for the protest, the construction site of the illegal apartheid wall. Israeli forces threatened one of the members of the popular committee with arrest if the protesters did not go back. When the non-violent protesters turned their back to the soldiers in an attempt to avoid an escalation of the violence the unprovoked soldiers started shooting rubber coated steel bullets, tear gas and sound bombs at them.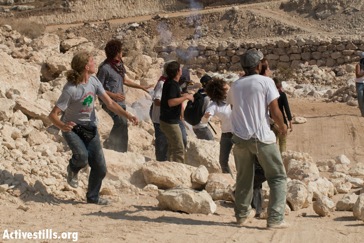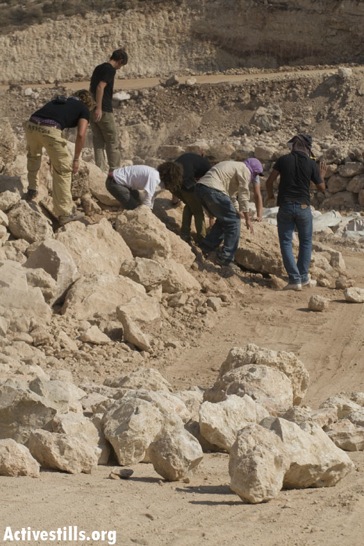 A group of the protesters managed to reach the construction site in the end of the protest and started building security road blocks out of rocks to prevent the army from coming into the village and tear gas the women and children in their houses. The soldiers shouted "inte shamuta" in their loud speaker to the working protesters in addition to the heavily shooting of tear gas and rubber coated steel bullets.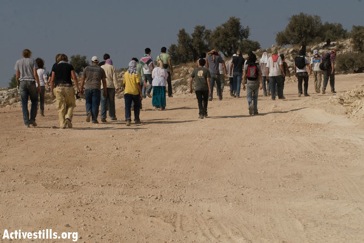 The annexation of Ni'lin villagers farming land for the illegal apartheid wall and the illegal settlements around Ni'lin leave the villagers with only 10 percent of the land they owned before 1948. In addition to the apartheid wall the plan is to build a tunnel that closes at 7pm and will be able to be closed down extremely easily, leaving the village isolated. Students and villagers who work outside of Ni'lin risk their jobs and education if they stay in Ni'lin and farmers who have lost almost all their land will have to find new ways to earn money for themselves and their families.