Egyptian Committee Against the Gaza Siege: At 8am this morning (10th September), a first group from the Egyptian Committee Against the Gaza Siege, mainly Labor Party's members, left Cairo in 4 micro-buses with food and medicine to go and try to break the criminal siege of Gaza.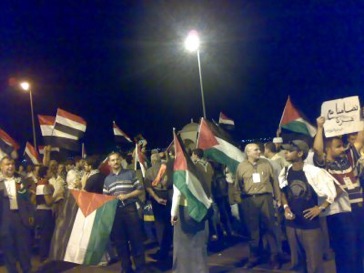 Photos from www.newspalestina.blogspot.com
When they arrived at Ismailia, located at 100 km from Cairo and 30 km from the Suez Canal, the Sinai entrance, the Egyptian police stopped the convoy and took away the driving licences of the drivers, preventing them to go forward
More than 150 people got outside the buses with Palestinian and Egyptian flags and chanting slogans in support of the Palestinians.
A second convoy of 5 buses with around 200 activists left Cairo at 1 pm and has been also stopped at Ismailia.
Many people coming from Alexandria and many other towns have been stopped before reaching Cairo and some of them have been arrested
Police tightened up procedures all along the main road to the border town of Rafah, checking the identity of travelers and asking them the reason for their journey, but many of them driving individual cars managed to reach Al Arish were they are waiting their friends.
Now, the activists who were traveling in the buses are still in Ismailia and demonstrating in front of the checkpoint.
They are chanting slogans asking the lift of the Gaza blockade;
They said they will stay there till Egyptian authorities will allow them to go to Gaza, even if this will happen only tomorrow.
According witnesses, the police seized one of the buses full of food.
Dr Abed Elglil, the Kefaia leader, said in a phone call: "Police is still stopping us and we intend to stay there till tomorrow. Egyptian authorities are worse than Israelis authorities because Israel let get through the 2 Free Gaza Movement's boats"
Indeed, the Egyptian government contributes to the blockade of Gaza by refusing to open the Rafah crossing point without Israeli approval, as it agreed in a 2005 deal with the Israelis.
Several national forces are participating in this action, including the Committee Against the Gaza Siege, Engineers against Detention, al-Karamah party, Labour Party, Nasserist party, Kifâya, independent lawyers, March 9 Movement, April 6 Movement and Muslim Brotherhood's members.