On the 17th July, the village of Ni'lin today continued its struggle against the construction of the illegal Israeli occupation wall that will annexe large quantities of Palestinian land. Approximately 200 locals, Israeli and international activists struck out against Israeli apartheid in a two-pronged strike on the construction site of the wall.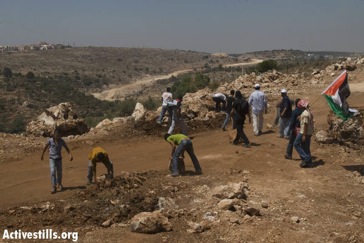 Photos courtesy of Activestills
The first, smaller group, was met by Israeli soldiers in a gully by the site. The soldiers fired tear gas at them from the mountain side, in the process igniting several fires. Moreover, they tried to arrest Palestinian participants without cause. They were rebuffed by international and Israeli activists who blocked the soldiers from reaching their targets. Whilst the confrontation was proceeding the fires grew and spread. The protesters attempted to extinguish the fires, but Israeli soldiers and border police hailed down more tear gas, starting new fires and causing unnecessary property damage. When the protesters were walking back they were shot at with rubber bullets and tear gas canisters used as projectile weapons. One Israeli activist was shot in the hip from less than twenty meters away.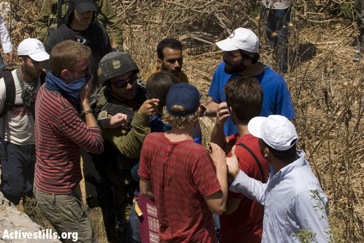 The larger group made it to the construction site but were confronted by soldier who shot live ammunition at them, even as the protesters were going back toward the village. The soldiers pursued the demonstrators into the heart of Ni'lin. Despite the hazards inherent to fighting in the street, the army sprayed the town with live fire in there reckless attempts to punish the adolescent stone throwers. The town hospital and multiple homes were hit.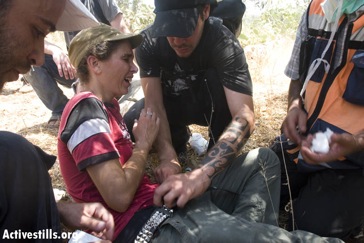 The clash is reflective of the asymmetrical usage of force used by the Israeli army when confronting Palestinians. All told, seven protesters were injured by rubber bullets. Nonetheless, the village, along with its supporters, will continue to fight the illegal seizure of its land and the gradual suffocation of its economic life by Israeli machinations.