On the morning of Friday the 4th of July 25 Palestinians and 15 internationals and Israelis participated in a weekly non-violent protest against the apartheid wall in the village of Al Masara, close to Bethlehem in the West Bank. The demonstration was halted on its way to the wall by the Israeli Army. The army threw sound bombs at the non-violent demonstrators and arrested two Palestinian protesters trying to reach their lands annexed by Israel.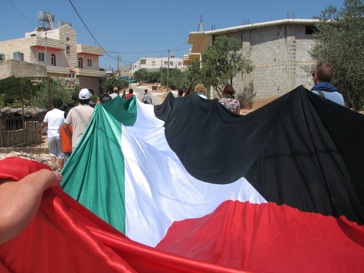 Protesters gathered in Al Masara village and started marching towards the planned route of the apartheid wall, carrying a huge Palestinian banner. The demonstration was stopped by soldiers blocking the main entrance to the village with razor wire and several jeeps. After thirty minutes of peaceful protesting the army detained two Palestinians trying to pass the blocked road and threw several sound bombs at protesters trying to liberate the Palestinians. In these attempts one international and one Israeli activist were also detained. As three persons tried to escape, the army fired live ammunition in the air and subsequently chased them down. After the arrests the demonstration dispersed. The international and the Israeli activist were later released and the Palestinians were held, accused of violence against the soldiers. Eyewitnesses reported no violence from Palestinians or internationals against the army.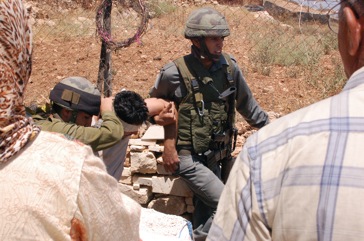 The village of Al Masara has had around 30% of its land annexed by the state of Israel, and is holding weekly demonstrations in protest against the apartheid wall being constructed across their land. In the upcoming week two actions are planned, one for Wednesday the 9th and one for Friday the 11th.