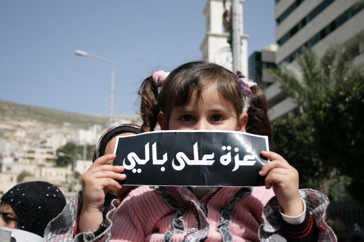 On Thursday 6th March 2008 the Women's Committees of Nablus marched through the centre of the city to protest against the recent massacre in Gaza during which more than 115 people were murdered. In preparation for International Women's Day on the 8th of March, the women of Nablus took to the streets carrying banners and flags demanding an end to the atrocities committed by Israel in Gaza.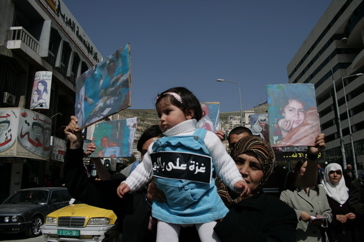 Internationals joined the demonstration in solidarity with the Women's Committees, holding pictures of some of the 27 murdered children of Israel's 'Operation Hot Winter'.
The rally culminated in a gathering at the central plaza where speeches were made by members of the Women's Committees and representatives from the governorate, condemning the attacks on Gaza.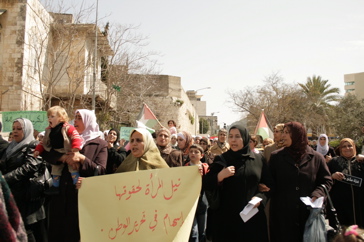 This year's International Women's Day actions and celebrations in Palestine will mourn and honour the deaths of the 6 women killed in their homes during the recent Gaza onslaught, which has brought the total of women killed by Israeli forces this year to 13. (PHCR, 2008)
PHCR, 8th March 2008: On International Women's Day, the Suffering of Palestinian Women Continues,
http://pchrgaza.ps/files/PressR/English/2008/25-2008.html