Edited from: https://israel.indymedia.org/newswire/display/8310/index.php
Original text by: Ilan Sharif
The Friday demonstration at the 443 apartheid highway
About 150 Israelis started their way to the demonstration before noon from Tel Aviv, Jerusalem and other parts of the country – less than half succeeded to arrive to the site of the demonstration because of roadblocks setup by Israeli police.
At the meeting point in Tel Aviv, two cars of police and intelligence were present from the beginning of the convergence. They followed the bus most of the demonstrators were on, and at the Rantis road block in the occupied territories, they blocked its way together with the forces present there, without even bothering to show any document authorizing them to do it. (The document was shown to other comrades when their car was blocked on another road block.)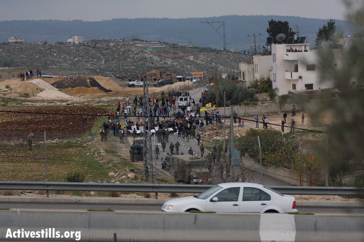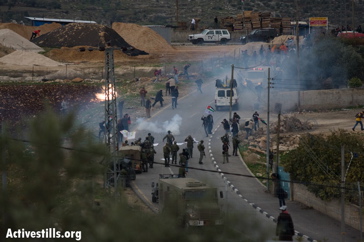 The demonstrators got down from the bus and demonstrated near the road block. During this demonstration the traffic on the road continued, but the police pushed and hit demonstrators and even detained three of them for hours – releasing them after interrogation.
The joint demonstration of the Palestinian villagers and the Israeli participants did take place, and was subject to vicious violence by the Israeli state forces. The army attacked the protest with sound bombs, tear gas and rubber coated steel bullets and injured seven people – two were taken to the hospital.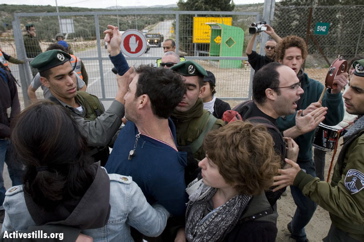 —————————-
Bil'in
The Friday demonstration – the 151st since 22d February 2005 was as it's usually been these last few months. We marched from the center of the village towards the gate of the separation fence under a drifting sky. We had a short presence at the foot of the hill the gate is on – as the Israeli state force forbade the approach towards the gate. After a while they showered us with tear gas, the commander of the state forces claimed we were not complying to his whims. A prolonged confrontation followed this between stone throwers and the state forces.
This week no one was detained or seriously wounded. The heavy rain started at the end of the confrontation and made riding home a challenge.
————————————————————————–
Um Salamona
At the Bethlehem region, 200 Palestinian, international and Israeli activists, marched against the illegal wall being built on land stolen by the Israeli army from the villagers of Um Salamona, located near the southern West Bank city of Bethlehem.
The protesters marched from the village towards the nearby settlers' road (known as Road 60) that cuts the village of Um Salamona off from its land. A year ago Israel started to build the annexation wall on village land.
The protest marked the one year anniversary of nonviolent resistance to the annexation wall in that village. Local villagers held Friday prayers on the settlers' road then speeches were delivered. Israeli troops arrived in the area but did not attack protesters. The action finished shortly thereafter.