On Saturday January 5, around 5pm, the Israeli Army's 3-day incursion into Nablus appeared to come to an end. Human traffic once again returned to the streets of the Old City and city center and the checkpoints surrounding the city reopened. Just as city residents began the task of assessing the damages of the invasion, the Army reinvaded Ros al Ain, occupying until 2am Sunday morning. Over 70 army jeeps were deployed throughout the invasion, including Special Forces, Border Police and bulldozers. Military operations took place all throughout the curfew zone, which stretched from the outskirts of Rafeidia to Almontasahat Park near Al Ain, as well as in the city's refugee camps and suburbs. One civilian has been left brain-dead, while two others are still in intensive care. At least 60 civilians were seriously injured, 50 houses were occupied, many of which suffered internal destruction. There was severe destruction to over 60 shops, including three larger shops. As is typical in these invasions, Army bulldozers also razed several shops to the ground.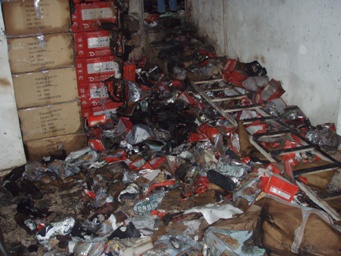 Aftermath of a shop bombing
Five international Human Rights Workers from Britain, Sweden, Italy and the United States assisted Palestinian Medical Teams throughout the invasion. The BBC has reported that the Israeli Army denies using live ammunition. However, HRWs repeatedly witnessed the Israeli Army firing live ammunition on groups of civilian protesters in addition to the standard rubber-coated steel bullets, tear gas and sound bombs. In fact, live ammunition caused one of the more serious injuries, which was to a young boy shot in the face. He is alive, but in critical condition. Several others were shot, with one civilian brain-dead according to the Palestinian Red Crescent Society.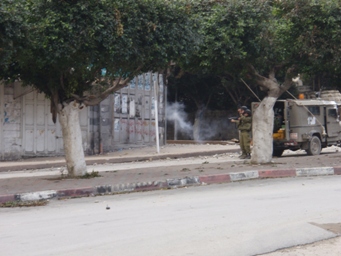 The Israeli army fire tear gas at protestors
The Army occupied several homes, particularly in the Old City. Walls were destroyed as the army used explosives to move from house to house. Several families reported to HRWs today that the Army exploded bombs in houses adjacent to theirs without warning them. One woman said she did not know there was a bomb in the apartment next door until she heard radio reports. Some families recounted to HRWs that the soldiers have occupied their homes so many times that this time they joked that they would "see them next week." One woman described being locked in her kitchen, which is approximately 2 square meters, while soldiers slept, ate in her living room, leaving bullet holes in the furniture.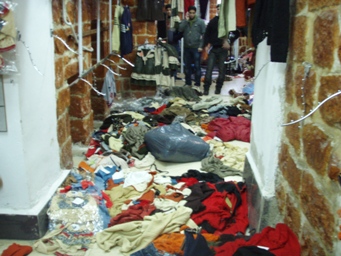 Destruction reaped when the Israeli army occupy a building, the above pciture is a shop in the Old City
Palestinian medical crews were repeatedly targeted throughout the invasion by the Israeli Army. 56 medics were detained by the Army and taken to Huwarra checkpoint for interrogation. As of Tuesday 8th January only 13 have been released. The Army opened fire on one ambulance with one medic left badly injured, while a tear-gas bomb was thrown into another ambulance, injuring two. Ma'an News reports that medic Ahmad Jibril received a rubber bullet to his back, while medics Diya' Balbisi and Tariq As-Sabuh were both wounded by Israeli gunfire. The Rafidia hospital was surrounded and occupied. Failure to respect and protect civilian hospitals violates Article 18 of the Geneva Convention.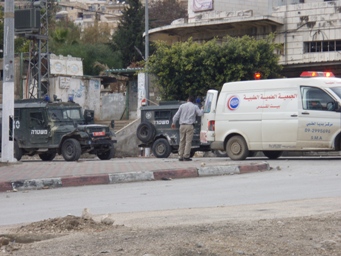 Border police denying medics access to treat a sick patient
The Five international HRW's accompanied Palestinian Medical Crews throughout the three day invasion, breaking curfew in an attempt to deliver food and medicine to residents of the Old City. Characteristic of the Israeli invasion, humanitarian relief workers were often prevented from entering the area. Tear-gas, sound bombs and warning shots from snipers were used on the medical crews. Nonetheless, Palestinian and international volunteers carried in much needed food and medicine and attempted to accompany elderly people and young children out of the Old City.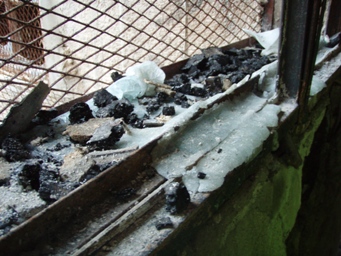 The arftermath of an Israeli bomb, the glass in the window melted in the heat of the explosion