Monday July 16th, 2007. Four members of the ISM have taken part in a work camp in Anata (Jerusalem area), organized by ICAHD, with the support of other organizations. The goal of this summer work camp is to rebuild a house demolished by the Israeli Occupation Forces in December 2005. 25 internationals from the US, New Zealand, Italy, England, and many other countries, as well as a variable number of Israeli volunteers, who go for one or some days, have taken part in this camp, that started on the 14th of July and will finish on the 28th with the inauguration of the house, hopefully, completely finished. The construction of the house is paid for by the internationals, who pay $1000, apart from their physical contribution with their work to build the house, hand by hand with Palestinian workers.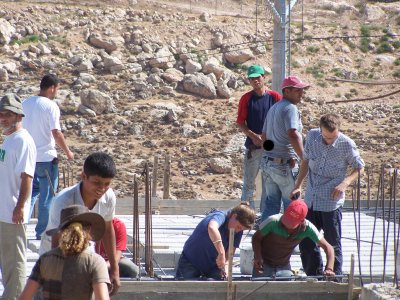 Tours are also given during part of the days, all around West Bank. The Palestinian family whose home is being rebuilt are staying in another nearby house, which sits in front of a new interrogation center and which, was itself demolished four different times and rebuilt by the ICAHD four different times. Nowadays this house doesn't function just as a home, but as a Peace center, because the family lost their residence permit and can only be there when there is an international presence with them, as it happens at the moment. The coordinators of the camp explained to us that the Jerusalem budget for demolishing houses allows only for 100 houses a year, but every year they plan for the demolition of many more families homes and in this way nobody knows when, or even if, their house is going to be demolished. This regularly makes them wonder why their house has been demolished while their neighborer's, which was scheduled for demolition, wasn't.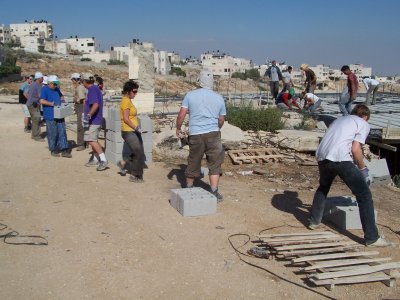 The demolition orders come because most of the houses in West Bank are "illegally" built and that is because it is almost impossible for Palestinians to build their homes legally. Each time they apply for a permit, they have to pay about $5000, and many times they have to apply three times. Even after three attempts sometimes they are still unable to get a permit. The Israeli authorities generally make up different excuses such as, that the house is on a hill, that a document is missing or some other meaningless bureaucratic nonsense. This process can be 10 years long. In Anata's case, the situation is even worse. Anata is a village under three different authorities: Jerusalem municipality, Area B (Palestinian civil control and Israeli military control) and Area C (Israeli civil and military control). So people here have to appeal to all these authorities. The Israeli project for Anata is to surround it by the wall, with just two exits, one to East Jerusalem and the other one to the rest of the West Bank.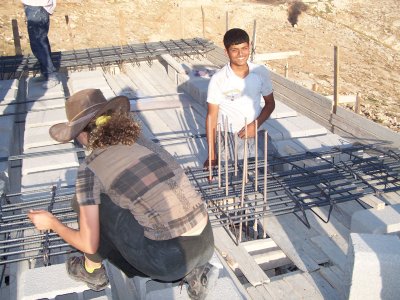 Both international and Israeli volunteers were very excited to help rebuild this home. The contact with other people from all over the world, all of whom have the same goal and the same worries about the situation in Palestine, along with the shared sweat, conversation and smiles with the Palestinian people makes everyone feel very hopeful about the future here. For many Israelis, the West Bank is as unknown to them as it is to people coming from other countries. Living and sharing this reality will help to give them a different idea of the situation in the country they share.