Excessive force in Bil'in leaves Palestinian in hospital with two operations
by Martinez, 11 May 2007

Photo by Jonas
Israeli occupation forces used excessive violence today in Bil'in to quell the regular Friday demonstration against Israel's Apartheid Wall, arresting 10 and injuring seven.
Palestinians were joined by international and Israeli solidarity activists after Friday prayers. Abdallah, a resident of Bil'in and member of the popular committee, explained the theme of the demo for today. He stated, "This demonstration today is dedicated to Azmi Bishara. Azmi Bishara was a Palestinian member of the Israeli parliament. Israel is accusing him of working with Hizbollah during Israel's lost war with Lebanon last summer. Azmi is now living in Qatar because, if he returns, Israel will put him in jail for 25 years. But it is Olmert and Peretz who should be in jail."

Azmi Bishara, Photo from Electronic Intifada
"From Bil'in, we are sending out support and solidarity for Azmi Bishara," rang a chant as the demonstration started.
The demonstration left the mosque and marched towards the gate in the Apartheid Wall. Israeli soldiers and border police from the M'gav unit were already waiting for the non-violent demonstration at the destination.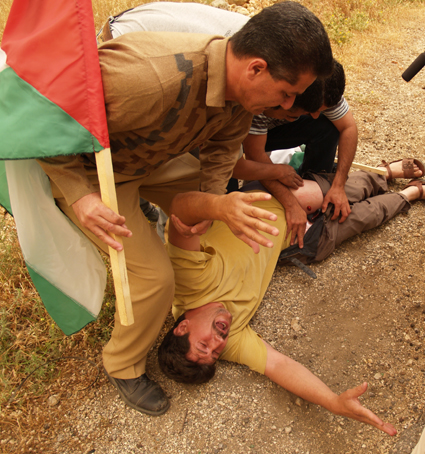 Photo by Jonas
Demonstrators reached a wall of barbed wire which the occupation forces had constructed on the path. Chants of "End the Occupation" and "Tear down the wall" could be heard. One Israeli border policeman suddenly took aim and shot a Palestinian demonstrator with two rubber-coated steel bullets.
Martinez, and American activist, described the event: "I was just a few feet from Adeeb Abu Rahma when the border policeman shot him. The officer was just about 6 feet away. He took aim for Addeb's legs and hit him twice on the inner side of his thighs. Immediately, Adeeb fell to the ground screaming. Activists immediately came to his assistance. When they lowered Adeeb's pants to assess the injuries, I could see two fairly large holes, bleeding."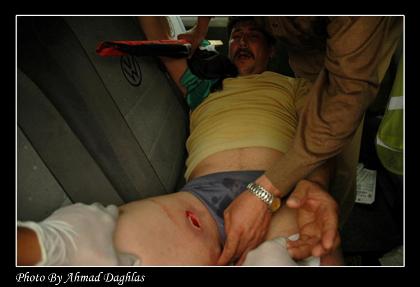 Adeeb was taken away by medics with the Red Crescent and driven to the hospital, where he sits at this moment. The rubber-coated steel bullets, because they were shot from such a close range, entered Adeeb's body. He just finished two operations in a Ramallah hospital where he must remain for at least two days under physician supervision. Rubber bullets are considered deadly by the Israeli army if they are shot at a distance from under 40 meters.
At this point, Israeli activists confronted the Israeli commanders to demand an explanation.
Jonathan Pollock explained, "when we tried to get details from the commander, details which he is mandated to give, the commander instead arrested us. There has been a rapid increase in violence in the last few weeks on the part of Israeli forces. This reflects a desperate attempt to break the non-violent resistance by using unwarranted military force and violence."

Israeli activist being arrested, Photo by Jonas
In all, 6 Palestinians (Iyad, Abid, Aid, Naser, Issa, Yosef) and 4 Israelis (Jonathan, Sarah, Nir, Gur) were arrested and later released.

Israeli forces invade the village, firing tear gas, Photo by Jonas
Six other demonstrators were wounded by rubber bullets or tear gas when the border police left the site of the wall and entered the village.
Police were shooting projectile tear gas cannisters and firing rubber bullets as they progressed further into the village of Bil'in. Border police were pushing people out of the way with their rifle and throwing activists around.

Israeli forces assaulting Palestinian activist
The border police effectively chased the majority of the demonstrators back into the village by using brute force.
For more information, contact:
Abdallah, 0547-258-210
ISM Media Office, 02-297-1824, 0599-943-157