by: Yifat Appelbaum
this is an infographic

Today I feel frustrated. I sat in a cute little apricot orchard in a village near Beit Lahem as the army watched us through binoculars from the hill, a menacing bulldozer in the background. They're going to 'doze this orchard to make way for sewage pipes from the Efrata settlement. New sections of Efrata are being built on the hill above the orchard. I was imagining all the problems that are going to happen once the settlers move in; villagers will need special permits to access their land. These permits will be difficult to obtain. Even if they do get permits, they will still be subject to the whims of the army who can either let them work the land or not, depending on their mood or the mood of the settlers controlling them. It will become like a hell, like so much of the west bank is already becoming. This has happened hundreds of times already.
this is the army

The only way to look at this is warfare. Land is stolen, no one in compensated. If some kid so much as throws a pebble in the direction of the invading army he's going to get shot or arrested. People whose families have supported themselves for generations off this land are suddenly without a source of income and forced to rely on handouts from various NGOs since, as we know, foreign aid is no longer coming into Palestine because of the international boycott of the Hamas government. Does Ismail Haniyeh look like he's starving yet ?
this is ismail haniyeh who is not worried about where his next meal is coming from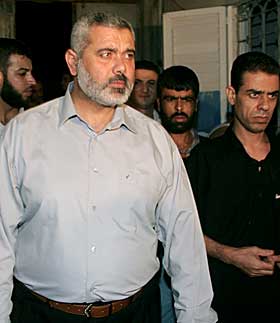 It's starting to feel ineffective to sit around for a few hours here and there and block a bulldozer while the army is patiently waiting for you to get bored and leave, and they know you will. So we save an orchard for one more day. Maybe a few extra hours here and there.
But I do know something. There is absolutely no way to justify this in the name of security for Israelis. No way at all.