by the ISM media team, March 11th
The rebuilding effort described below requires finances that the local Palestinians, impoverished by the ongoing siege, do not have. The materials for the rebuilding were bought on credit so that the villagers could live in houses again as soon as possible – they had been living in tents on their land since the demolitions on February 14th. To see how you can support this effort click here.

Three and a half weeks ago the IOF demolished seven homes and several agricultural structures in three Palestinian areas in the South Hebron Hills on the pretext that they lacked building permits. Settler ouposts, illegal even according to Israeli law, are meanwhile encouraged to flourish in the area by receiving infrastructure and subsidies from the Israeli state.
On Friday and Saturday, Israeli and international activists rebuilt four homes in Qawawis and helped repair a damaged house in Imneizil. Israeli groups Rabbis for Human Rights and Ta'ayush arranged buses for volunteers coming from Jerusalem, Tel Aviv and Beer Sheba, with around 50 helping on Friday and 70 on Saturday.
The volunteers mixed cement which was used to fill in the gaps in the stone walls and then laid the corrugated iron roofs.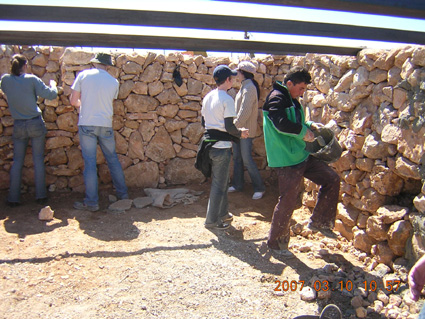 A Palestinian and Israeli representative then gave talks on the difficulties facing the South Hebron villagers from settler violence and IOF harrassment and the need for continued solidarity with the villagers as they struggle to maintain their traditional way of life.
Settlers have viciously attacked farmers from villages like Qawawis and Susya with the complicity of the IOF and police, which fail to investigate the attacks or even accompany the settlers. The IOF regularly harrasses the farmers when they take their sheep and goats to graze on their land. The farmers are cut off from nearby Palestinian markets by a 82cm high concrete wall along the settler road they have to cross. Although an Israeli Court ordered the dismantling of this wall it is still in place.
Despite these overwhelming obstacles the farmers of the South Hebron Hills refuse to be ethnically cleansed from their ancestral grazing land.