by ISM Hebron, February 15th
On Monday 12th February at 3:45pm, a settler women with about 8 children went to the Tel Rumeida hill. The settler children, aged 8-10 years old, started to throw stones at Palestinian children who were playing football underneath the hill. A settler women started to cut the fence of the Abu Heikel garden and got inside with a few children.
Members of the Abu Heikel family called the police but were afraid of having a confontation with the settlers and so they left the occupiers in the garden until the arrival of the police. Some of the settler children went to the Wad Alhareya street next to the Jabal Alrahmah mosque, where they attacked the Al Saafeen local shop with stones.
Meanwhile, one of the soldiers approached the settlers occupying the garden and soon spoke with the settler women who were still in the garden. He didn't take any action against them and left.
A police jeep arrived 40 minutes later and after long discussions with the settlers, the family left and went to the Wad Alhareya street where already many settlers, soldiers and police had gathered.
After the arrival of the police in this street which is under Palestinian control (H1), the group of young settlers who attacked the local shop blamed two Palestinian children, Amjad Amro and a boy of the Hadad family, both around 14-years old, for attacking them with stones.
The same women and the child who were in the Abu Heikel garden were walking in the street. One of the local Palestinian boys walked passed them, then the settler child pointed at him and said that he had attacked him. Safwat Shweikee, about 13-years old, was subsequently arrested and started crying as the soldier took him away. All three Palestinian children were arrested and spent 5 hours at Kiryat Arba police station.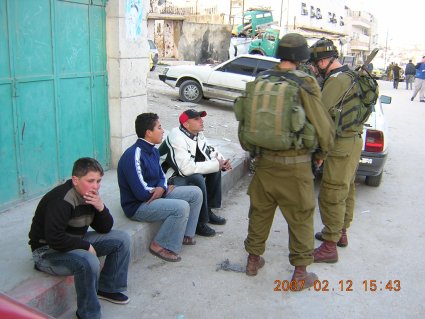 Then the soldiers aggressively forced all the local shops to close although most of them are in Palestinian controlled H1. About 5:15pm the settlers, police and soldiers left the street.
During the incident a HRW was attacked by a settler child while he was taking pictures of the scene. A police man who stood next to them didn't react.