by the ISM media team, December 8th
UPDATE 7pm Ahmed has been taken from the police station to Ofer military detention centre. He has been accused of damaging the illegal apartheid wall, resisting arrest and being in a Closed Military Zone.
At today's peaceful demo against the illegal apartheid wall in Bil'in the IOF assaulted and abducted Bil'in peace activist Ahmed Abu Hasssan, 34. Ahmed was attacked by 10 soldiers as he pulled at a razor wire fence that forms part of the illegal wall regime in Bil'in. Female activists who came to his aid were beaten and had their hair pulled by the soldiers. Ahmed was dragged away by soldiers holding him by the scruff of the neck and was then blindfolded. Bil'in residents are targeted every week for arrest due to their role in highlighting the apartheid Israeli occupation.
As protesters marched to the gate in the wall soldiers were occupying the house of a Bilin resident and standing on the roof. After singing and chanting at the gate, some demonstrators protested with banners and flags along the route of the wall whilst others pulled on the razor wire. This led to an immediate display of military force and Ahmed's arrest.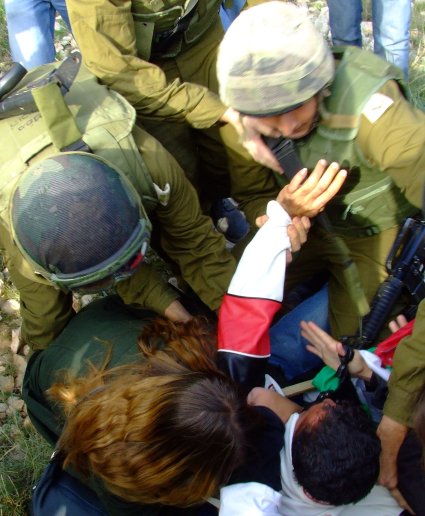 UN observers and the director of Amnesty International Irene Khan were present in the village during the demonstration and did interviews with villagers and non-violent activists about the Occupation land theft in Bil'in and repression of local residents. Ahmed is only the latest in a long line of Bil'in residents to be abducted and held by the IOF.