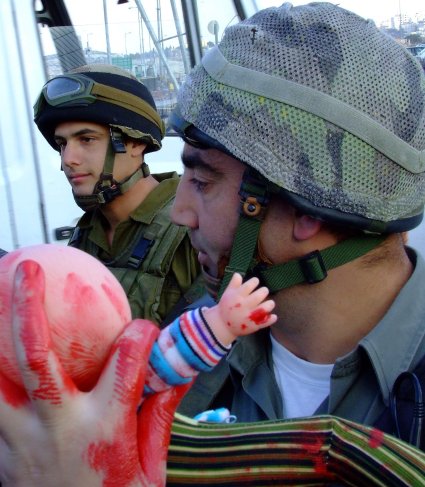 On Sunday November 19, Palestinian activists joined by international supporters held a non-violent demonstration at Qalandia checkpoint near Ramallah in solidarity with the people of Gaza against the ongoing Israeli attacks and the Beit Hanoun massacre.
Around 50 protesters unfurled banners, and used red paint spattered dolls to symbolise the killing of innocent children carried out by the Israeli army during their current offensive into Gaza, which according to BBC reports has killed over 400 Palestinians, mostly civilians.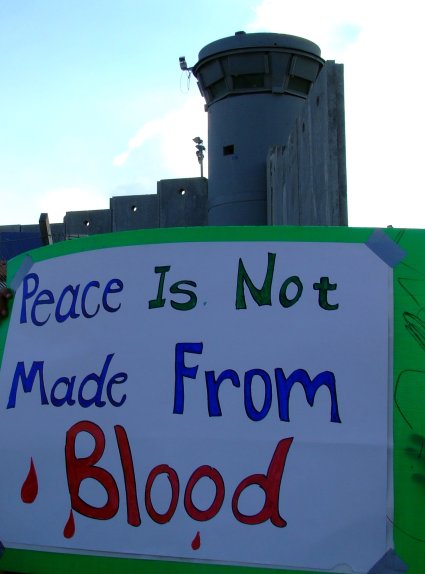 The protesters were careful not to disrupt the traffic flow of Palestinian vehicles passing through the illegal checkpoint (all checkpoints are illegal under international law). Around a dozen soldiers quickly mobilized in order to deal with the apparent threat posed by the peaceful demonstration. The soldiers' presence created a confrontational situation in which the demonstrators continued to voice their opinions face-to-face as they chanted slogans in protest.
The peaceful protest then turned ugly as soldiers began jostling with demonstrators and a uniform was inadvertently smeared with red paint. At this point the soldiers completely overreacted in trying to arrest a Palestinian American woman. Demonstrators were assaulted as the soldiers showed no restraint. The woman was chased for around 25 metres before being bundled to the ground by the Israeli soldiers, but in a classic de-arresting maneuver four of the demonstrators locked arms and thwarted the soldiers attempts. Aware of the international media presence, the Israeli border police commander decided to call off the attack.
At this point the demonstrators began chanting with renewed vigour and the soldiers retreated to their original position. However, it soon became obvious the soldiers were perturbed at their unsuccessful attempts to make an arrest when they began needlessly throwing sound bombs at the demonstrators, injuring an American protester in the process.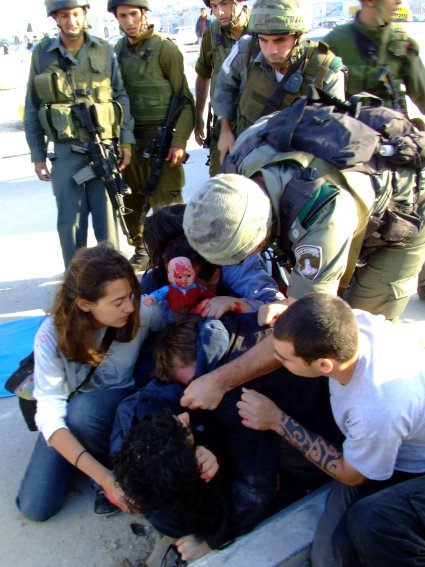 Having stated their point, the demonstrators collectively left in defiant mood as it was clear at this juncture the Israeli border police had decided to deal with the peaceful demo violently.
On Friday the UN General Assembly overwhelmingly passed a resolution condemning Israel's massacre in Beit Hanoun in Gaza last week. Some 156 countries, including the 25-member European Union, voted in favor. The United States, Israel, Australia, Nauru, Palau, the Marshall Islands and Micronesia voted against.