by Bill Dienst MD, November 13th,
Nablus, population 113 thousand, is the West Bank's second largest city: second only to East Jerusalem. Founded during the time of the Romans, it is over 2000 years old.
Here is a fruit market in the center of town.
The heart of Nablus is Al Dowaar Square, also known as Martyr's (Shaheed's) Square.
Since the second intifada, many have died defending Nablus from Israeli attacks.
On Friday we face Mecca, and pray for an end to our oppression.
For when cats are trapped in the alley, they will hiss and fight by all means necessary in order to survive; until Israel renounces violence and recognizes Palestine's right to exist . . . with full and equal rights; just like the Israelis: in a sovereign and independent nation with full control of its borders, its air and sea space, and its economy.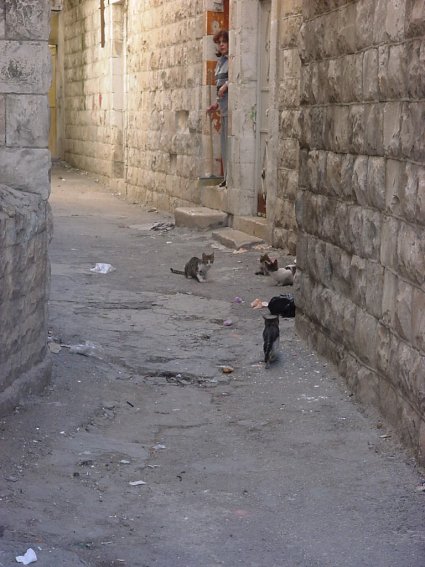 We have no choice but to trust in God.
Palestine has the right to defend itself. Here are some posters of dead local fighters. Lebanon and Iraq have the right to defend themselves too: from brutal military invasions and colonial occupation.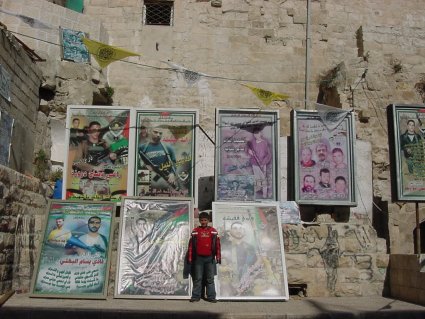 Much of the ancient Old City of Nablus was bombed in the spring of 2002. It has since been rebuilt.
It is Friday, the day of worship for Muslims. That's Al Harbell Mosque in the distance.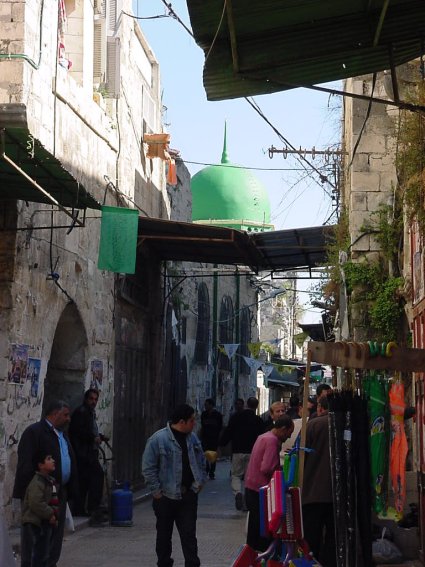 Young girls of Nablus.
These boys are crazy for their city, and are determined to free their city from Israeli occupation.
This is Mr. Eid, who is a tailor, making a comforter.
Most of the shops are closed today because it is Friday.