Translated from the Hebrew original by Rann Bar-On.
"As a doctor, a mother and a human being I have always been strongly against any attacks on civilians, Israelis or Palestinian. But here we are serving as target practice for an organized army. The people are hungry, there is no water, electricity or communications, it is impossible to move freely on the roads and medical supplies are almost exhausted." Mona El'Fara, a doctor in the Al Wada hospital in Jabalia, describes life in Gaza. A monologue and pictures from the other side of the checkpoint.
by Tamar Dressler, November 10th
"My name is Mona Al'Fara, I am 52 years old, a mother to three children, the youngest of whom is 14. I am a doctor in the Al Wada hospital in the Jabalia refugee camp in Gaza. I work for the Medical Committees Organization that operates the hospital, a number of other health centers and community health programs for children, women and teens. I serve as the health and development advisor for the organization and also co-ordinate projects for the 'Chidren's Union of the Middle-East' in the Gaza area.
"This week, as I made my way to the hospital along the abandoned road, I could see Israeli tanks. The Al Wada hospital is not far from Beit Hanoun, and every day on my drive to and from work I felt fear. I fear that the Israeli army's shells will hit the car in front of me or behind me.
"The general mood in Gaza is of a lack of security, but I still continue my work. I send my daughter to school and wonder if she will return home safe and well. Many children have been killed in the schoolyard or on their way to it. The Israeli army hits civilians during its operations, and sometimes we feel that the army intends to hit as many civilians as possible.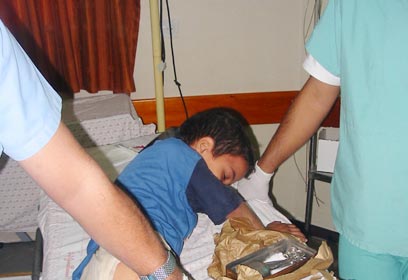 "It is difficult for me to travel freely throughout the Gaza Strip because I am very scared of missile attacks. I almost never visit my mother, certainly not as often as I should. I have no social life whatsoever and no possibility of planning ahead. From a mental point of view, things are very hard for me. I have mood swings, I feel depression and a deep sadness. I have trouble sleeping at night and terrible nightmares. My feelings are typical of almost all Gazans, even children and infants. The worst feeling is of being jailed – the borders are all closed, they have opened only six times in the last four months."
* * *
"Last Sunday two rescue workers were killed as they were working, and one of the team members in the hospital was also hurt. On Monday at 7:30am a bus of 3-5 year old children arrived at the hospital. Their teacher was hurt by a falling shell and the bus evacuated her to the hospital. The youngest children were in shock. They were crying and shaking, and the team worked to calm them down. Some of the people burst into tears at the sight of the stunned children who were admitted to various departments.
"Two days ago I arrived at work exactly as the dead and wounded from Beit Hanoun began to arrive. Among the injured were those who were severely wounded and many children, it was without doubt one of the hardest days I've had in the hospital. The family members waiting outside were clearly traumatized. The triage room was crowded and we could barely function.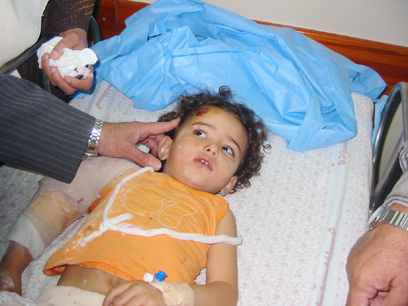 "Since the beginning of the operation in Beit Hanoun nine women from the town came to give birth at the hospital. They were made to wait for hours until they got permission to leave Beit Hanoun. Some of them stayed in the hospital because they couldn't get back home, others found shelter with local families. With the help of the UN I managed to send 400 packs of baby formula to Beit Hanoun. I was told there was a great shortage of milk there.
"My feeling is that the terrible situation could have been prevented by the army. Saying "sorry, we apologize" is not enough. It certainly won't bring the dead back to life.
"As a doctor, a mother and a human being I have always been strongly against any attacks on civilians, Israelis or Palestinian. But here in Gaza we are serving as target practice for an organized army. State terror is what I call it.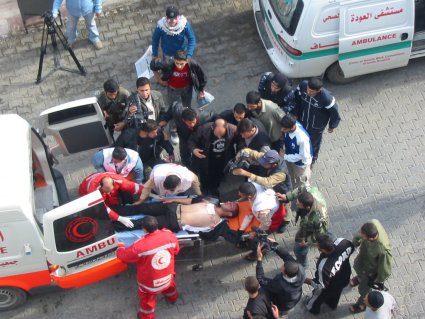 "For the past four months we have been living without electricity after the power station in Gaza was destroyed by a targeted bombing. The shortage of electricity makes life here very difficult. In the hospital we use a generator that uses expensive petrol. Since the border to Gaza is closed most of the time and it is impossible to transfer patients, the teams here are under enormous pressure, especially the surgical teams. We are forced to postpone almost every surgery that isn't an emergency or life-saving so that we can conserve electricity for critical surgeries.
"Cancer patients are forced to give up chemotherapy and radiology treatments because they are not permitted to cross the Egyptian border. Patients in intensive care units are in dire states due to the shortage in the electricity supply. So are dialysis patients.
"At the moment, we still have medicine and other medical supplies, but we are fearful that they will soon run out completely. Despite the enormous pressure we are trying to ensure availability of supplies. Due to the situation, the operating expenses of the hospital have gone up enormously. Additionally, we are forced to treat most patients at no charge due to their financial circumstances. Around 70% of Gazans rely on international aid for a living.
"As part of our work, we found out that 42% of women and children suffer from severe anemia due to a shortage of iron. There is no doubt that this is caused by malnutrition and the lack of meat. That is the extent of the crumbling economy that is caused by sanctions and the siege."
* * *
"The people of Beit Hanoun are hungry. They have no water, electricity or access to communications. Large tracts of agricultural land have been destroyed, medical teams are not permitted entry except in emergency cases and after complex co-ordination. The huge number of dead in the civilian population adds to the enormous pressure the fragile and diluted medical system in Gaza is under.
"The fact that Israel persists in carrying out the operation causes me sometimes to think that it does not seriously want to achieve peace and stability in the region. I feel that your government is trying to cause us, the Palestinians, to shrink to a minimum our national ambitions – until, in time, our attention will be diverted to the humanitarian situation and nothing else.
"I believe that the Occupation has to end, and that a peace process that is not based on justice cannot sustain itself. But peace cannot be dictated by the stronger side. I still dream of the day the war will end, then Israelis and Palestinians will live side by side in this ancient land."
Dr. Mona Al'Fara requested that her picture not be shown.