by ISM Nablus, November 15th
At 2.30 yesterday morning (the 14th), Israeli forces entered 'Ein Beit El Ma refugee camp just North of Nablus city center, randomly shooting teargas and live ammunition into the camp as they entered. During the invasion, five people were lightly injured, including a 14-year old girl who was shot in the leg while standing in her hallway.
Israeli snipers took up strategic positions on Palestinian roofs and top-floors, evicting families as they did so. Awoken at gunpoint, men, women and children were forced out of their beds and made to sleep in hallways and storage rooms. One woman and her daughter were startled by a concussion grenade thrown outside their window and, unable to go back to sleep, moved into the living-room. Ten minutes later, 12 soldiers crawled through a large hole in the wall, knocking a heavy wardrobe onto the bed where the two women had been sleeping only moments before. Sledgehammer in hand, the first soldier to enter the home ordered the women to get into the kitchen and locked the door. They were released six hours later.
At least 20 homes were occupied by the Israeli military this morning. One distraught grandmother asked international solidarity workers to check on her three-year old grandson who was being held by Israeli soldiers on the top floor together with his mother and older siblings. After some negotiation, the soldiers left the house, leaving a scene of devastation in their wake that is sadly mirrored in every other neighbouring home. Bullet holes riddle walls and furniture, piles of rubble and shredded martyr posters lie in the alleyways below, children's bedrooms are overturned.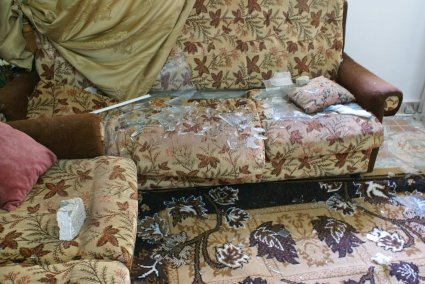 Brown footprints from army issue boots stain mattresses, shards of glass hang from broken window frames, and grave children's faces wander around on tired legs, looking up at their parents almost manically cleaning up the reminders of the invasion. Reclaiming some small sense of normality.
Earlier in the morning, a 26-year old PFLP resistance fighter, Baha, was shot in the waist by an Israeli sniper. Denied access to medical assistance, he bled to death an hour later. His mother was accompanied through the camp by solidarity workers in order to be able to say goodbye to her son in peace before the funeral procession. He lay on a mattress among his relatives, his jaw tied up with a bandage and with a determined but calm look on his face, younger than his years. His mother sat beside his head for a long while, stroking his hair and his folded arms, reminding him of something funny he had said last week and beating her cheeks in grief.
Meanwhile, two teenage Palestinian Medical Relief Society volunteers were abducted from where they stood on the outskirts of the camp by Israeli soldiers. They were blindfolded, handcuffed and bundled into a jeep, where they were held until solidarity workers were able to put enough pressure on the Israeli forces to release the volunteers. Six other men were detained inside the camp but released a couple of hours later.
The Israeli forces left the camp at about 11.00am. With teargas still lingering in the air, people stormed out onto the streets to inspect the damage. At least 5 cars had been crushed, dumped upside down or thrown into ditches by bulldozers and the sidewalks were crumbling.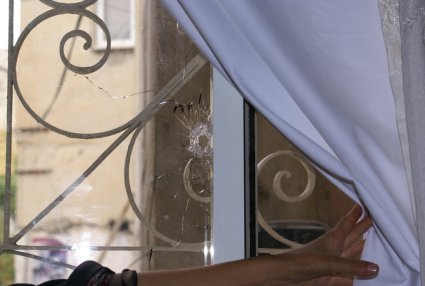 Teary-eyed women and men marched through Nablus behind the stretcher carrying Baha's body, loudspeakers blaring out a beautiful duet about a mother who loses her son to the struggle. Yet even without music, the solidarity and genuine grief exhibited by neighbours toward one another in the camp is touching and impressive.
As Hassan Ali Khatib, father of six, said "I do not need to take words from outside, or add anything to my story. I speak from my heart and that is enough. The truth here is plain for anyone with eyes to see it." He had spent the entire night stuck on the far side of "Sabatash" checkpoint, worrying about his children and wife as he received more and more worrying reports from friends in the camp. Sitting on the couch with his youngest daughter beside him he looks up, suddenly optimistic, and starts talking about football. And so everyday life jump starts into action yet again.
See also this eyewitness account of the same events by the Guardian's Conal Urquhart.