by ISM Hebron, November 11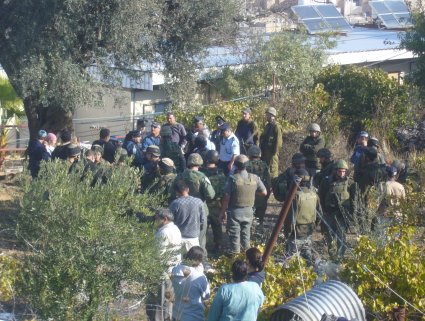 At 7.45am our neighbours, the Abu Haikels, began to pick olives from one of their trees, by which a Israeli military outpost is placed. At the same tree, we filmed settlers stealing olives two weeks ago. The Palestinians had to wait a week for the military and police to agree to let them pick their own olives. The soldiers had promised that they would protect them as they picked. At 8.15am, settlers surrounded the tree. They kicked over a bucket of picked olives and trampled them into the ground.
The international human rights worker (HRW) on the road watching school children spotted what was happening and alerted the rest of the team who then filmed from the apartment. Another HRW went up the hill to the Palestinian's house. He was able to film from their garden.
The Palestinians asked the settlers to leave their land and a fight ensued. Border Police and soldiers arrived and separated Palestinians from settlers. One Palestinian man and a settler were arrested for fighting. The soldiers formed a line and moved the Palestinians back from the tree. They continued to allow the settlers to trespass and trample the olives.
The Palestinian family called Rabbis for Human Rights, who spoke to the DCO and alerted the press to what was happening.
Eventually the Border Police asked the Palestinians to move off the land. They threatened to arrest the HRW who was filming with them unless she left too, which she did. Once the field was clear the police and soldiers moved the settlers off the land. At this point they allowed the family back and they continued to pick the olives.
Four press photographers arrived too late — two from AFP and two from Reuters.
Once the first tree was finished the family moved around the corner away from the settlement and picked another large tree and two small ones. They finished picking around 4pm. They have picked most of their olives now and were happy with the harvest at the end of the day. However, the family is suffering a huge amount of stress from the continual harassment by settlers which is seriously affecting their health.