by ISM media team, October 20th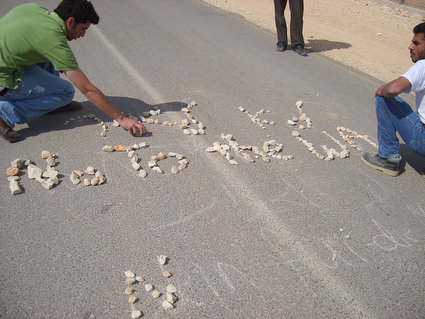 At midday yesterday the villagers of Bil'in again marched in solidarity with Emad Bornat, who was attacked and taken from Bil'in by the Israeli occupation forces on 6th October. Nearly forty people, twenty Palestinians along with twenty internationals and Israelis, participated in the demonstration, aiming to reach the apartheid wall.
As the demonstration reached the outskirts of the village they were met by seven soldiers with the Israeli Occupation Force (IOF). Their attempts to prevent the demonstration from reaching the wall, by forming a blockade, were unsuccessful. While the demonstration marched towards the barrier, IOF soldiers fired tear gas and concussion grenades at Palestinian demonstrators, most of whom were children.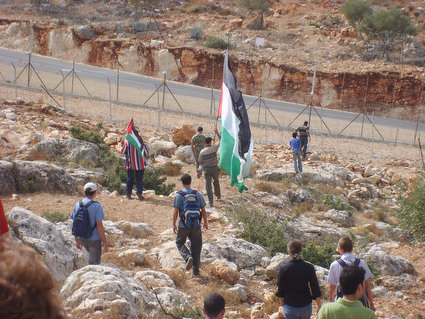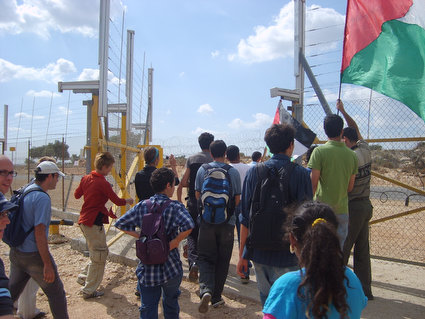 Demonstrators first entered through part of the apartheid barrier, where a hole had been cut in the fence and razor wire. They proceeded to march up to, and through the gate and onto the settler-only road, when they were confronted by at least forty IOF soldiers and border police. In reaction to IOF soldiers and police trying to force the demonstration off the road, demonstrators sat down, chanting "NO to the wall", and singing in resistance. A message to the occupation forces was spelt out in stones on the settler road in both English and Hebrew. "NO TO THE WALL!"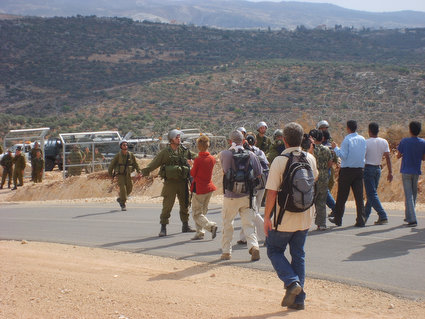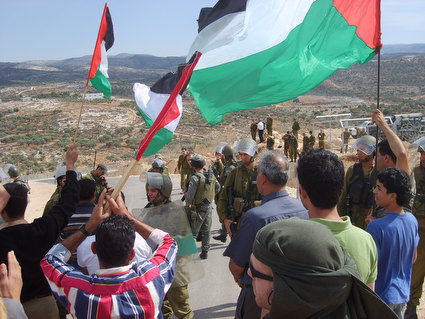 After sitting on the road for about half an hour, the demonstrators called off the action, and returned to the village escorted by IOF soldiers. The soldiers followed until the demonstrators had left the area where the barrier has been established.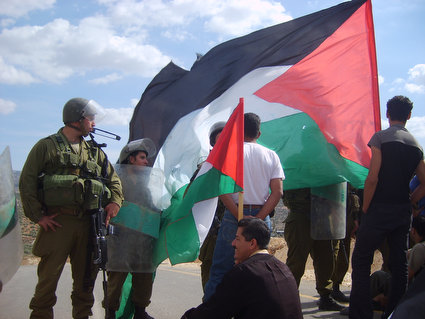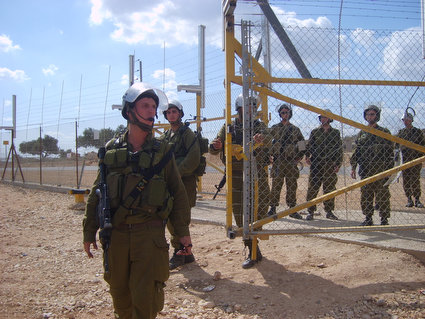 On returning to the village, demonstrators came across two soldiers who had become separated from their unit. As their unit returned for them, the unprovoked soldiers fired concussion grenades and tear gas, at dangerously close distances.
After reaching the village, IOF soldiers and police started shooting tear gas, concussion grenades and rubber bullets. Soldiers then began aiming their rifles (minus the rubber-bullet attachment) at children. Some of the international demonstrators decided to stand in their way, in order to prevent them from firing. This forced the soldiers to question their actions, which eventually got them to step back. At this time IOF soldiers and police were aiming their rifles directly at demonstrators and several internationals were nearly hit by tear gas and concussion grenades. One grenade exploded just an inch from the leg of one person causing burn injuries. One soldier threatened an international, pushing and hitting her with a baton. A short while later, a military jeep entered the outskirts of the village, shooting rubber bullets at Palestinian demonstrators. Two villagers were hit with the rubber bullets.
The demonstration today was a great success in support for the freedom of Emad Bornat, resistance against the settlements and the apartheid wall. The weekly protests will continue.
injuries:
Khalid Khatib – rubber bullet
Sameh Burnat – rubber bullet