FOR IMMEDIATE RELEASE
Today, September 1, 2006, in the village of al-Khadr, in the Bethlehem region, Palestinian and international solidarity workers removed a razor wire barrier serving as a preliminary basis for the Apartheid Wall. During the action, approximately 100 Palestinian and international demonstrators led a non-violent march and were stopped by Israeli Occupation soldiers on their way towards the Apartheid Wall.
The residents of the village left Friday prayers at the mosque and joined with international solidarity activists in a march through the village. The demonstrators waved Palestinian flags and carried a banner reading, "This Wall Imprisons Palestinians in a Ghetto," written in Arabic and English. After approximately fifteen minutes of marching, the demonstrators were stopped by a large force of Israeli Occupation soldiers. The soldiers took up positions on an earth mound road block and prevented the Palestinians and internationals from reaching the Apartheid Wall. At this site, armed Occupation forces assembled with armored military jeeps as well as border police jeeps.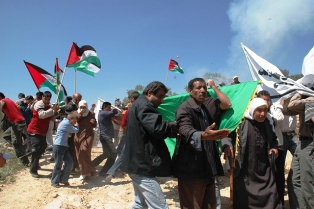 While the Palestinians and internationals were demonstrating in front of the soldiers, five international activists and two Palestinian activists separated from the group and traveled to the site of a razor wire barrier. Once the activists reached the fence, they removed many metal stakes which secured the barrier, and rolled a section of the barrier, approximately 150 meters in length, down a hill towards route 60. The activists were able to complete this task as Israeli Occupation forces arrived, and were able to avoid confrontation or arrest.
The razor wire is used in conjunction with a series of road blocks and checkpoints to separate the Palestinian communities from neighboring Israeli settler-colonies. The barriers and road blocks bisect Palestinian communities and create a "buffer" zone for the future construction of the Israeli Apartheid Wall. In contrast to the northern area of the West Bank where the Apartheid Wall is nearly completed, there is ongoing construction in the south that had been continually met with Palestinian non-violent resistance. The demonstration in al-Khadr today is but one example of this resistance, as are weekly demonstrations in Bil'in and other communities in the north, central and southern West Bank.
For more Information:
ISM Media Office: 02-2971824