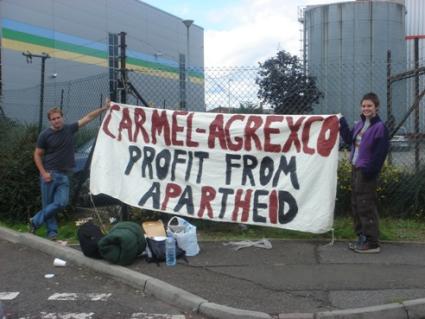 Early Wednesday morning, Palestine solidarity activists blockaded the Israeli company Carmel Agrexco's UK headquarters. This was part of a non-violent protest against recurrent breaches of human rights and international law in the occupied territories of Palestine. Protesters locked themselves inside large metal cages in the entrance and exit of Agrexco's UK depot causing serious disruption to dispatches from and deliveries to the depot.
The company advised police that they did not wish to have protesters prosecuted and after eleven hours locked on the company's property the protesters left. Protester Tom Hayes said "Agrexco do not want to prosecute us because when a nearly identical protest was carried out two years ago Agrexco-Carmels' dealings with illegal settlements in the West Bank were forced to be disclosed in court. The experience was very embarrassing and damaging for them".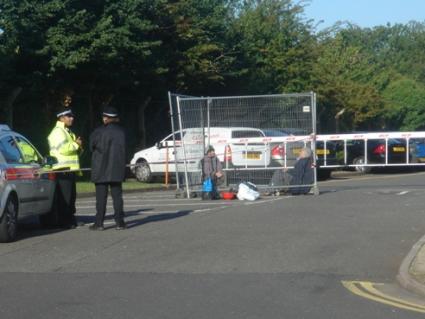 Carmel is complicit in war crimes under the International Criminal Court Act 2001 (ICC Act). They import fresh produce originating from illegal Israeli settlements in the Occupied Territories.
The action follows a legal warning letter to Carmel stating clearly why they are in breach of the law.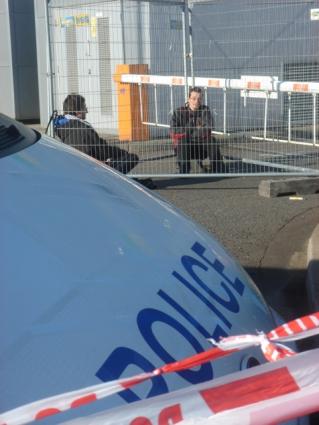 The action took place at Agrexco UK, Swallowfield Way, Hayes, Middlesex, Israel's largest importer of agricultural produce into the European Union. It is 50% Israeli state owned.
Before taking part in the blockade, many of the protesters had witnessed first hand the suffering of Palestinians under Israeli military occupation.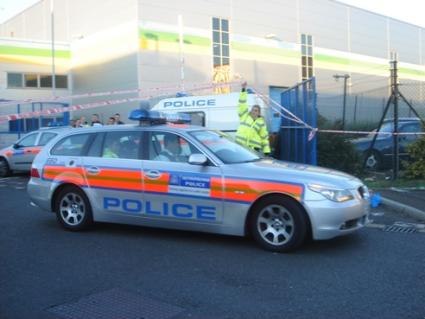 This followed on from an action of 11th November 2004, when seven Palestine-Solidarity protesters from London and Brighton were arrested after taking part in a non-violent blockade outside the same company.
Last September a Judge ruled that Agrexco (UK) must prove that their business is lawful. The acquittal of the seven activists before they were able to present their defence meant that the court did not have to rule on the legality of Agrexco-Carmel's involvement in the supply of produce from illegal settlements in the occupied territories.
Yesterday's blockade aimed to draw attention to this company's complicity, in murder, theft and damage of occupied land, collective punishment, apartheid and ethnic cleansing, and other breaches of International Law.
More protests against the company are anticipated.
For more information call any of these numbers:
+44 7723 055070
+44 7845 039980
+44 7701 034887
Links:
Another report of the day with more pictures on Indymedia UK
http://www.indymedia.org.uk/en/2006/08/349756.html
Text of letter sent to Carmel Agrexco
http://www.indymedia.org.uk/en/regions/london/2006/08/347361.html
Report on Carmel's Involvemnt in the Jordan Valley:
http://www.indymedia.org.uk/en/2005/09/322537.html
Press release from previous trial (with links):
http://www.indymedia.org.uk/en/2006/01/331851.html
War on Want?s Report "Profiting from the Occupation":
http://www.waronwant.org/?lid=12671