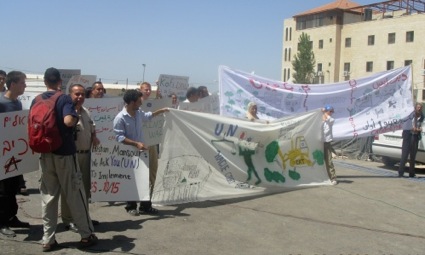 by ISM Media Office volunteers
This afternoon, peace activists from the International Solidarity Movement joined Palestinians, Israelis, and international supporters from other organizations to picket the visit to Ramallah of Kofi Annan, Secretary General of the United Nations. Mr Annan was in the West Bank today to meet Mahmoud Abbas, President of the Palestinian Authority (PA).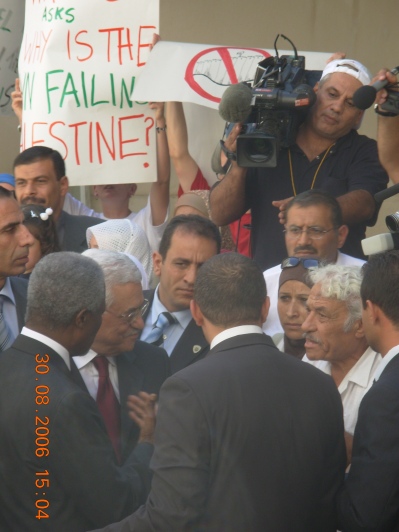 The demonstration began at 1.30pm at the Muqata, headquarters of the PA. Activists brought banners and placards, written in Arabic, Hebrew and English, with slogans including "Stop Land Theft", "Scotland Against The Wall" and "Enforce Resolution 242". A large banner included illustrations of the illegal partition wall, currently under construction in the West Bank, and the ongoing destruction of olive trees (by the Israeli Government) which provide livelihoods for many Palestinians.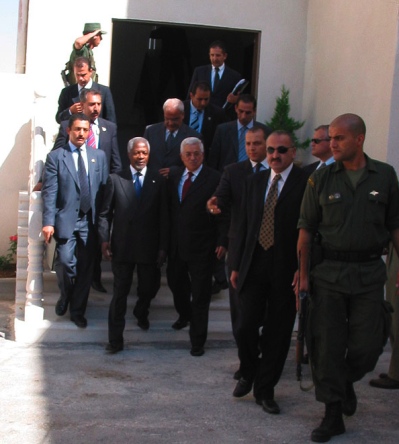 The central purpose of the picket was to emphasize the impact of the Israeli Government's policies upon the lives of people living in the occupied West Bank, with particular reference to the partition wall, which is preventing ordinary Palestinians from accessing their farmland, jobs and schools, and has divided families. Amongst the demonstrators were people from Bil'in, a village to the West of Ramallah, where 60% of the villager's farmland has been cut off from the village by the wall, and where regular non-violent demonstrations are held in protest at the erection of the wall.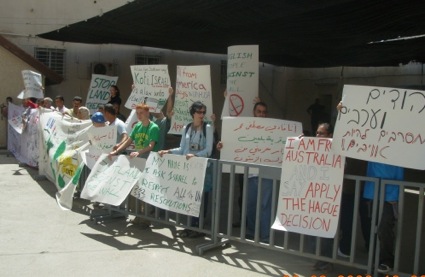 Activists hoped to remind Mr Annan that the Israeli Government has still not complied with a raft of UN resolutions, nor has it moved following last year's ruling, by the International Court of Justice in The Hague, which confirmed that the erection of the partition wall is illegal under international law.
Prior to beginning formal talks, both Mr Annan and Mr Abbas came outside to briefly meet demonstrators. Mr Annan listened to the concerns of the gathered villagers and activists, and confirmed that these matters would be discussed in talks today.