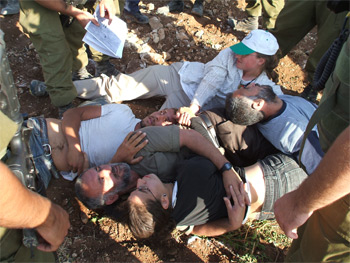 FOR IMMEDIATE RELEASE
Palestinian landowners have been laying down in front of bulldozers that are building a fence surrounding the Kermi Tsur settlement on land belonging to Hallhul and Beit Ummar farmers every day since work started Sunday.
Tuesday morning Palestinian and International peace activists were beaten and detained by the soldiers. But only the Palestinian non-violent activist, Musa Abu Meria, who was beaten severally, is still dentained. He is currently being "held by the Shabak" (or Shin Beit, the Israeli secret service), according to Military sources. According to a report by the Public Committee Against Torture in Israel (PCATI), published two years after a High Court of Justice ruling against the legalised use of torture by the state, "every month, dozens of Palestinians undergoing interrogation by the GSS [General Security Service, or Shabak] are subjected, in some way, to torture and ill treatment".
Israeli Soldiers broke the leg of one of the land owners, Awardalla Sabarna, while arresting him and fired rubber bullets and tear gas at the villagers during the protest Monday.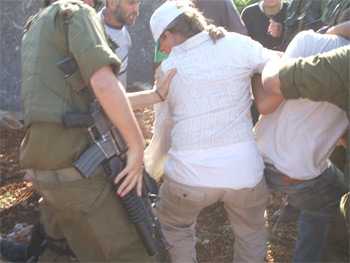 Three American peace activists, were also arrested yesterday were released late last night from the Kiryat Arba settlement police station.
For more information:
Musa : 054-583 8925 (Arabic)
Jeff : 054 431 2492 (English)