Report by Shai E. and Matan. Translated by Rann B.
On Friday the 26th of May 2006, about six jeeps belonging to the border police unit and gunner unit that is currently serving in the Macabim division drove around the village of Budrus firing in every direction. The forces fired tear gas, rubber-coated steel bullets and sound bombs. Almost every point in the village received a gas attack and there was nowhere to escape to.
We and an international friend were on the roof of a building visiting some friends.
After a few failed attempts to communicate with the Ramallah area District Coordinating Office (DCO), Matan called Dov Chanin, a Knesset member from the Hadash party. Eventually, a decision was made by the commander of Macabim division to remove the forces from the village.
As the forces were on their way out they shot two tear gas canisters into the house we were in. We sat in a small room with around five children, aged 2-10. The house was dense with tear gas and the children were crying. It was very difficult to breathe.
The father of the family decided to take the children outside. He, his wife, and a family friend went outside with the children.
The soldiers shouted to us "Get out of the house or we will blow it up!". We went down the stairs – everyone who went was beaten by the commander (a Druze Border Police officer) and thrown against the wall with his or her back to the soldiers. We were forced to our knees and ordered to put our heads down. "You will be humiliated this evening," they said to us, "came to say a Sabbath blessing in the village? We will say a mourning prayer over you". Matan was recognized as the guy from Beit Sira who had been shot in the eye with a rubber-coated steel bullet (one soldier even apologized to him a little), and I as a participant of demonstrations in Bil'in. To our non-Israeli friend, they claimed I throw stones in Bil'in.
Our IDs were checked. The international was interrogated in English and at one stage a rifle was aimed at his head, with a canister containing a number of rubber-coated steel bullets that fire simultaneously. I shouted at them that they should point the rifle away and got another beating.
They asked us if our mothers know what we're doing. I asked them the same and they said "of course!". I said that she probably isn't very proud. They asked "who?" and I said "your mother". I got kicked twice and they shouted at me not to talk about their mothers.
When Matan told them there was an order from the commander of Macabim division that they exit the village, they got very angry and pushed his head against the concrete wall of the house, at a point with barbed wire.
Throughout the entire incident, the soldiers refused to identify themselves. After about half an hour they got into their jeeps and drove off. They left the village at about 9pm.
The trauma suffered by the children of the village is clearly visible on their faces and is evident by their nightly crying. These are innocent children whose streets are flooded every few days with dozens of soldiers who turn their village into a war zone.
The so-called IDF is a terrorist organization.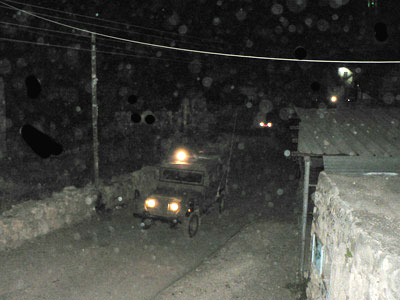 The IOF Forces on their way out