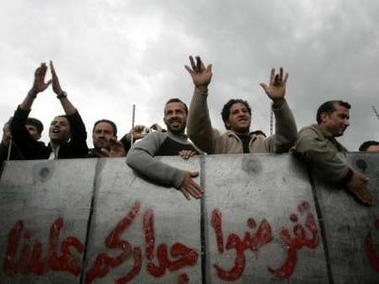 In the continuation of the non-violent resistance to the annexation wall in the Palestinian village of Bil'in, demonstrators carried a model of the wall with the sentence "You will not impose your wall on us" written in Arabic. The 150 Palestinian, Israeli and international activists were, as usual, prevented from reaching the wall by Israeli soldiers and Border Police. As demonstrators attempted to pass the line of soldiers, sound grenades were thrown and activists were beaten with wooden clubs by the Israeli forces. One Palestinian man was clubbed in the head and taken away in a Palestinian ambulance, and several others had minor injuries.
During a calmer period of the demonstration, a small ceremony was held to honor and thank one international activist who has spent almost 2 months living in Bil'in. He helped protect the outpost which was built on the Bil'in lands which the wall effectively annexes to the Israeli settlement. The outpost was built as a Peace Center for the joint Palestinian, Israeli and international struggle against the wall.
Several activists succeeded in getting around the army line and banged on a metal gate with stones. One by one soldiers brutally dragged them back to "their" side of the imaginary line which the soldiers had drawn. Imaginary line because in actuality all of the area, including the wall construction site and the settlement, belongs to Bil'in village. As the demonstration continued more and more activists were able to get around the soldiers to bang stones on the metal fence, and the soldiers gave up on trying to drag them all back behind the army line. Even though about half the demonstrators had already passed this line, soldiers continued to be very forceful in their attempts to block more people from crossing.
Towards the end of the non-violent demonstration, a few hundred meters away, a couple of village youth and Israeli soldiers were engaged in their weekly battle of stones versus tear gas and rubber-coated steel bullets. After most of the demonstrators had returned to the village, at least a dozen live ammunition shots were heard coming from this direction.