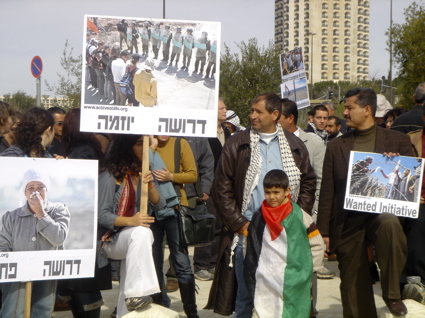 (Israeli peace activists and Palestinians from Bil'in demonstrate together in front of the High Court of Justice)
1.High Court: State must explain why it won't move separation fence in Bil'in
By Yuval Yoaz, Haaretz Correspondent
The High Court of Justice on Thursday ordered the state prosecutor to explain why Israel won't alter the route of the separation fence where it passes over land belonging to the West Bank Palestinian village of Bil'in.
The state was given three weeks to explain why the fence can't be moved west, toward the Upper Modi'in settlement, so that it won't pass over Bil'in agricultural lands.
The High Court issued the preliminary injunction at the request of Bil'in residents, who are petitioning the court to order the state to alter the fence route in the area.
On Wednesday, lawyer Michael Sfard told the court the current fence route was not determined by security considerations, as the state maintains. Sfard said the fence route was designed to allow the eastward expansion of Upper Modi'in.
He also said the fence route allows the building of the new Matityahu East neighborhood. As was first published in Haaretz, illegal construction, without any building permits or legal building plan, is currently underway on the neighborhood.
"We had thought that the fence administration was building a fence," Sfard said. "But now it is clear that the fence administration is building new illegal neighborhoods in settlements."
The fence separates the village of Bil'in from a large portion of its agricultural lands.
The Matityahu East neighborhood has 750 housing units and another 2,000 are planned. The lands on which the neighborhood is being constructed belong to Bil'in residents. Portions of the land were obtained using documents suspected to have been forged.