Reflecting the True Face of The Occupation
By Sarita
Two days after the disengagement deadline for the four settlements in Jenin District, the villagers of Bil'in and their supporters challenged the ongoing Isreali occupation and illegal settlement expansion in the West Bank. Over 40and 30 Internationals accompanied the villagers to the path where the Israeli army is constructing it's illegal Apartheid Wall, carrying mirrors that reflected written slogans such as "No to the Wall," "Gaza Disengagement means more West Bank Settlers," and "End the Occupation" — onto the soldiers blocking the way.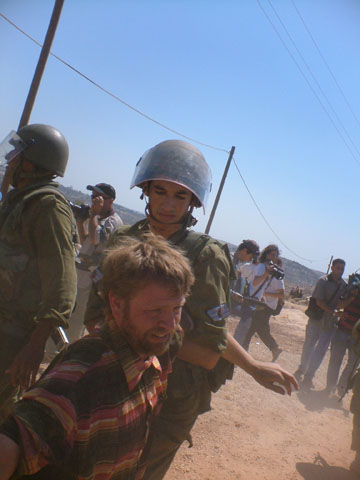 Four international peace activists were
detained Friday in Bil'in. Two were arrested.
While the demonstrators sat in front of the barbed wire chanting and singing, the army suddenly started shooting sounds bombs and tear gaz into the crowd. People dispersed quickly, but the soldiers chased down the protestors and began to arrest them. Four Isrealis and four internationals were detained, some were severely beaten as demonstrators attempted to de-arrest them.
Two Internationals are still being held at the police station and will be brought before the judge tomorrow to face their charge. So far only one international has been officially accused, charged with throwing stones. Supporters have gathered at the police station with video clips to prove the contrary. All the Israeli activists and one International have been released with no charge.