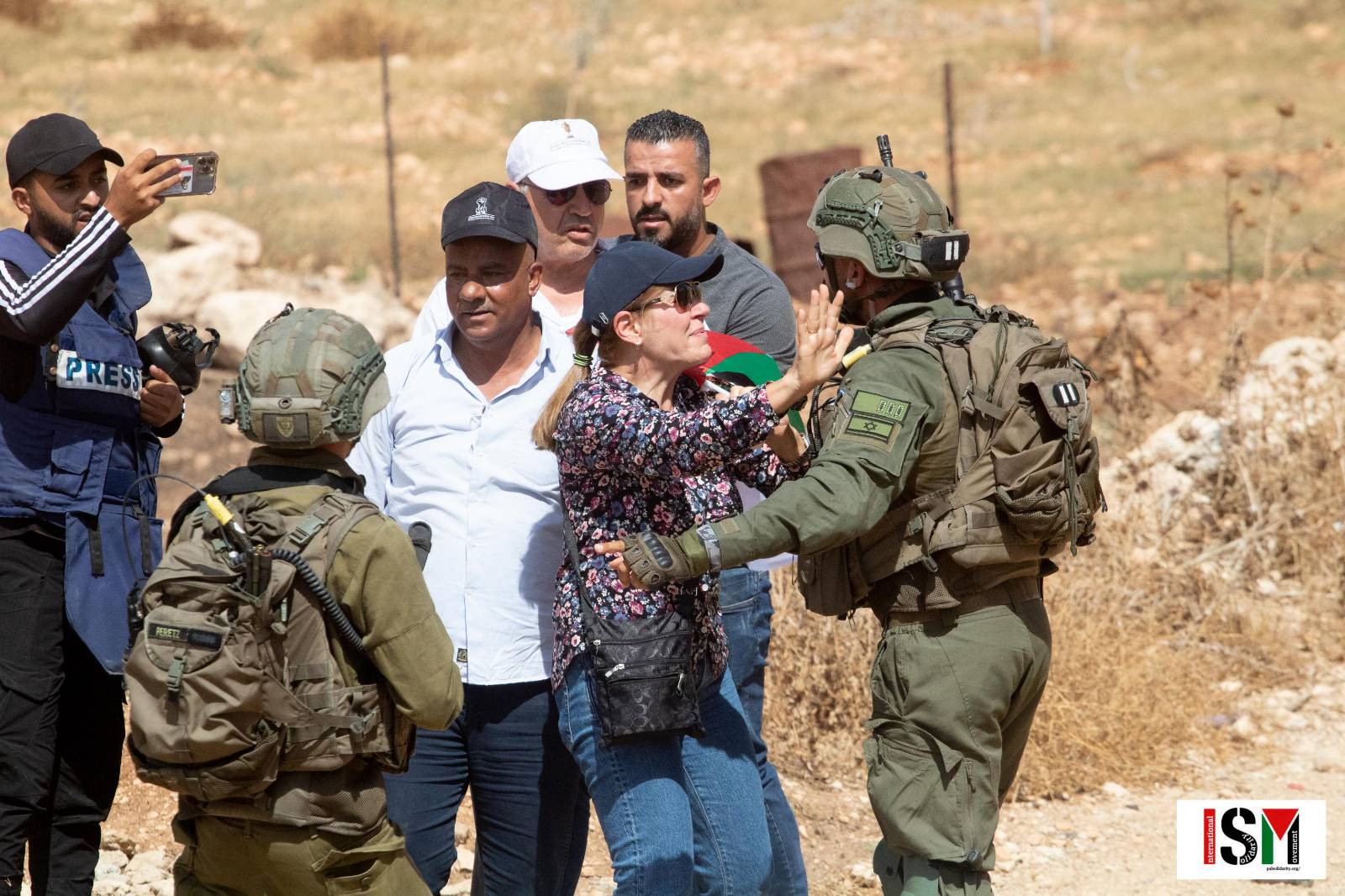 By. Diana khwaelid for ISM
Palestinian activists marked the third consecutive anniversary of the revival of national events to resist the occupation of the lands of Beit Dajan – east of Nablus. At noon on Friday-2-9-2023, Palestinians set off to participate in the weekly march from the village of Beit Dajan to the illegal outpost in the village to confront the occupation and settlers, and to demand the departure of the occupation and the return of confiscated lands.
Palestinian, international and Israeli activists have participated in the weekly demonstration against the occupation and in defence of the village lands that were confiscated by the Israeli occupation forces for 3 years in a row.
Palestinian activists from the National Action factions and the Colonisation and Wall Resistance Commission (CWRC) participated in the weekly demonstration to express their anger and condemnation and continue to face the occupation until the liberation of the village lands. The occupation forces suppressed the demonstrators with tear gas, stun grenades and rubber bullets, and the Israeli occupation forces assaulted the demonstrators.
The Palestinian activist Mansour, Moayyed Shaaban (the head of the CWRC), and Nasr Jaish (the activity and coordinator of the National Action factions in Nablus
and the village of Beit Dajan) were attacked.
Medical and press crews were also attacked. Journalists Abdullah Bakhsh and Diana khwaelid were assaulted and dozens were injured by suffocation.
For three years now, the Palestinians in the village of Beit Dajan have been continuing their patriotic activities and weekly demonstrations until they regain their right to stay, liberate the village from the occupation and settlers, and regain their lands. The demonstrators were threatened to retreat and leave the area at gunpoint, but the Palestinians decided to continue and face the occupation despite everything.
An international activist from the International Solidarity Movement also suffered an injury to her foot and was treated earlier by Palestinian medical staff.
Palestinian, international and Israeli activists raised the Palestinian flag to emphasize the right to survival and the Palestinian presence in the village, the area and the confiscated lands.